')}.U-white [type=checkbox]{border-color:#fff}label [type=checkbox]{margin-right:.5em;vertical-align:middle;position:relative;bottom:2px}[type=checkbox][disabled]{cursor:not-allowed}label:not(.-disabled) [type=checkbox][disabled]{opacity:.4}[type=radio]{-webkit-appearance:none;-moz-appearance:none;appearance:none;border:2px solid #9696a0;height:20px;width:20px;border-radius:50%;-webkit-transition:border .3s;transition:border .3s;cursor:pointer;background:#fff;margin-top:8px;margin-bottom:8px}[type=radio]:focus{outline:none}[type=radio]:checked{background:#008ffc;border-color:#008ffc;background:-webkit-radial-gradient(circle,#008ffc 0,#008ffc 5px,transparent 6px,transparent 100%);background:radial-gradient(circle,#008ffc 0,#008ffc 5px,transparent 6px,transparent 100%)}label [type=radio]{margin-right:.5em;vertical-align:middle;position:relative;bottom:2px}[type=radio][disabled]{cursor:not-allowed}label:not(.-disabled) [type=radio][disabled]{opacity:.4}select{background:#fff;border:2px solid #cacacf;-webkit-appearance:none;-moz-appearance:none;appearance:none;padding:5px 30px 7px 8px;background-image:url('data:image/svg+xml;utf8,');background-size:10px;background-repeat:no-repeat;background-position:right 10px center;border-radius:3px;outline:none;-webkit-transition:border .3s ease;transition:border .3s ease;font-size:16px;line-height:1.25;color:#2e2e42;white-space:normal}select:focus{border-color:#008ffc}select.-flat{font-size:1em;color:inherit;padding:0 18px 0 0;border:none;white-space:pre-line}select.-wide{width:100%}.Input-switchWrapper{position:relative;display:-webkit-box;display:-ms-flexbox;display:flex;width:32px;height:12px;font-size:11px}.Input.-columns .Input-switchWrapper{margin-right:.5em}.Input-switchWrapper input{display:none}.Input-switchWrapper .Input-slider,.Input-switchWrapper .Input-toddler{position:absolute;cursor:pointer}.Input-switchWrapper .Input-slider{display:-webkit-box;display:-ms-flexbox;display:flex;top:0;bottom:0;left:0;right:0;background-color:#a9adbb;margin:0 3px;border-radius:6px;overflow:hidden}.Input-switchWrapper .Input-toddler{width:16px;height:16px;top:50%;left:0;border-radius:50%;background-color:#fff;-webkit-transform:translateY(-50%);transform:translateY(-50%);box-shadow:0 -1px 2px 0 rgba(0,0,0,.12),0 1px 2px 0 rgba(0,0,0,.24);-webkit-transition:-webkit-transform .5s;transition:-webkit-transform .5s;transition:transform .5s;transition:transform .5s,-webkit-transform .5s}.Input-switchWrapper .Input-checkedBG{width:0;background-color:#7ed321;-webkit-transition:width .5s;transition:width .5s}.Input-switchWrapper input:checked+.Input-slider>.Input-checkedBG{width:100%}.Input-switchWrapper input:checked~.Input-toddler{-webkit-transform:translate(100%,-50%);transform:translate(100%,-50%)}[type=email],[type=number],[type=password],[type=search],[type=tel],[type=text],[type=url],textarea{display:block;outline:0;width:100%;background:#fff;border:2px solid #cacacf;border-radius:3px;font-size:16px;line-height:1.25;padding:5px 8px 7px;color:#2e2e42;-webkit-transition:border .3s ease;transition:border .3s ease}[type=email]:focus,[type=number]:focus,[type=password]:focus,[type=search]:focus,[type=tel]:focus,[type=text]:focus,[type=url]:focus,textarea:focus{border-color:#008ffc}[type=email]::-webkit-input-placeholder,[type=number]::-webkit-input-placeholder,[type=password]::-webkit-input-placeholder,[type=search]::-webkit-input-placeholder,[type=tel]::-webkit-input-placeholder,[type=text]::-webkit-input-placeholder,[type=url]::-webkit-input-placeholder,textarea::-webkit-input-placeholder{color:#9696a0;line-height:normal}[type=email][type=number],[type=number][type=number],[type=password][type=number],[type=search][type=number],[type=tel][type=number],[type=text][type=number],[type=url][type=number],textarea[type=number]{width:7em;max-width:100%;display:inline-block;text-align:right}[type=email][type=number].-small,[type=number][type=number].-small,[type=password][type=number].-small,[type=search][type=number].-small,[type=tel][type=number].-small,[type=text][type=number].-small,[type=url][type=number].-small,textarea[type=number].-small{width:3em}input:disabled{cursor:not-allowed}label.-disabled{opacity:.4;cursor:not-allowed}div.Input.-columns{display:block;position:relative;padding-top:16px;padding-bottom:16px}.DMCard.-padding div.Input.-columns{padding-left:32px;padding-right:32px;margin-left:-32px;margin-right:-32px}@media screen and (max-width:767px){.DMCard.-padding div.Input.-columns{padding-left:16px;padding-right:16px;margin-left:-16px;margin-right:-16px}}.DMCard.-padding div.Input.-columns:nth-child(even){background-color:#f4f4f5}.DMCard.-padding div.Input.-columns:nth-child(even) .U-fading:before{background:-webkit-linear-gradient(right,#f4f4f5,rgba(244,244,245,0));background:linear-gradient(to left,#f4f4f5,rgba(244,244,245,0))}.DMCard:not(.-padding) div.Input.-columns{padding-left:16px;padding-right:16px;margin-left:-16px;margin-right:-16px}.DMCard:not(.-padding) div.Input.-columns:nth-child(even){background-color:transparent}.U-zebra.U-zebra>div.Input.-columns:nth-child(even){background-color:#f4f4f5}.U-zebra.U-zebra>div.Input.-columns:nth-child(even) .U-fading:before{background:-webkit-linear-gradient(right,#f4f4f5,rgba(244,244,245,0));background:linear-gradient(to left,#f4f4f5,rgba(244,244,245,0))}.DMContainer:not(.-noZebra) div.Input.-columns{padding-left:24px;padding-right:24px;margin-left:-24px;margin-right:-24px}@media screen and (max-width:767px){.DMContainer:not(.-noZebra) div.Input.-columns{padding-left:16px;padding-right:16px;margin-left:-16px;margin-right:-16px}}.DMContainer:not(.-noZebra) div.Input.-columns:nth-child(even){background-color:#f4f4f5}.DMContainer:not(.-noZebra) div.Input.-columns:nth-child(even) .U-fading:before{background:-webkit-linear-gradient(right,#f4f4f5,rgba(244,244,245,0));background:linear-gradient(to left,#f4f4f5,rgba(244,244,245,0))}div.Input.-columns.-error{box-shadow:inset 0 0 5px #b41a1a}div.Input.-columns .Input-error{position:absolute;right:4px;top:4px;width:24px;height:24px;background-image:url('data:image/svg+xml;utf8,');background-repeat:no-repeat;background-position:center}div.Input.-columns .Input-left{padding:0;min-width:0;max-width:none}div.Input.-columns .Input-right{padding:0}div.Input.-columns .Input-label{margin-bottom:8px;font-weight:600;font-size:16px;color:#2e2e42}div.Input.-columns .Input-description{-webkit-box-ordinal-group:0;-ms-flex-order:-1;order:-1;margin-bottom:8px;margin-top:0;font-size:14px;font-weight:600;color:#9696a0}div.Input.-columns .Input-input:focus~.Input-description{color:#9696a0}div.Input.-columns.-radio.-table .Input-description{margin-bottom:0}div.Input.-columns.-checkbox:not(.-multiple) .Input-label{margin-bottom:0}div.Input.-columns.-checkbox:not(.-multiple) .Input-description{-webkit-box-ordinal-group:1;-ms-flex-order:0;order:0;margin-bottom:0}div.Input.-columns.-checkbox .Input-input{bottom:0}div.Input.-columns.-checkbox:not(.-table) .Input-checkboxWrapper:not(.-horizontal){-webkit-box-orient:vertical;-webkit-box-direction:normal;-ms-flex-direction:column;flex-direction:column}div.Input.-columns.-checkbox:not(.-table) .Input-checkboxWrapper:not(.-horizontal) label+label{margin-top:8px}div.Input.-columns.-range .InputRange{-ms-flex-preferred-size:100%;flex-basis:100%}div.Input.-columns .Input-checkboxWrapper{display:-webkit-box;display:-ms-flexbox;display:flex}div.Input.-columns .Input-checkboxWrapper.-horizontal{margin-top:-4px;-ms-flex-wrap:wrap;flex-wrap:wrap}div.Input.-columns .Input-checkboxWrapper.-horizontal label{margin-right:16px;margin-top:4px}div.Input.-columns .Input-checkboxWrapper label{cursor:pointer;font-size:14px}div.Input.-columns .Input-input.-radio,div.Input.-columns .Input-input.-readonly{font-size:16px}div.Input.-columns .Input-input.-textarea.-readonly{white-space:pre-line}div.Input.-columns .Input-input label{cursor:pointer}div.Input.-columns.-checkbox .Input-input.-readonly{margin-right:8px}div.Input.-columns.-text .Input-label:not(.-readonly),div.Input.-columns.-textarea .Input-label:not(.-readonly),div.Input.-columns.-number .Input-label:not(.-readonly),div.Input.-columns.-checkbox .Input-label:not(.-readonly){cursor:pointer}div.Input.-columns .Input-tip{font-size:14px;font-style:italic;margin-bottom:16px;width:100%}.Input-input.-rank{display:-webkit-box;display:-ms-flexbox;display:flex;-webkit-box-orient:vertical;-webkit-box-direction:normal;-ms-flex-direction:column;flex-direction:column;-webkit-box-align:start;-ms-flex-align:start;align-items:flex-start}.Input-input.-rank .Input-option{display:-webkit-box;display:-ms-flexbox;display:flex;-webkit-box-align:center;-ms-flex-align:center;align-items:center;padding-top:4px;padding-bottom:4px;position:relative;cursor:move}.Input-input.-rank .Input-option.-moved{color:#008ffc;background:#fff;z-index:10}.Input-input.-rank .Input-option.-focused:after{content:'';top:0;left:0;background:#008ffc;height:2px;position:absolute;width:100%}.Input-input.-rank .Input-option.-last:after{top:auto;bottom:-1px}.Input-input.-rank .Input-optionIndex{display:-webkit-box;display:-ms-flexbox;display:flex;-webkit-box-pack:center;-ms-flex-pack:center;justify-content:center;-webkit-box-align:center;-ms-flex-align:center;align-items:center;width:19px;height:19px;font-size:14px;border-radius:50%;background-color:#008ffc;color:#fff;margin-right:8px;-ms-flex-negative:0;flex-shrink:0;font-weight:600}.Input-input.-rank .Input-optionName{-ms-flex-negative:1;flex-shrink:1}.Input-input.-selectGroup{display:-webkit-box;display:-ms-flexbox;display:flex;-webkit-box-orient:vertical;-webkit-box-direction:normal;-ms-flex-direction:column;flex-direction:column}.Input-input.-selectGroup select+select{margin-top:16px}.Input-input.-html{padding-top:16px;padding-bottom:16px}@font-face{font-family:Lato;font-weight:300;src:local('Lato Light'),local('Lato-Light'),url(/fonts/google/Lato_300.woff) format('woff')}@font-face{font-family:Lato;src:local('Lato Regular'),local('Lato-Regular'),url(/fonts/google/Lato_400.woff) format('woff')}@font-face{font-family:Lato;font-style:italic;font-weight:300;src:local('Lato Light Italic'),local('Lato-LightItalic'),url(/fonts/google/Lato_300italic.woff) format('woff')}@font-face{font-family:Source Sans Pro;src:local('Source Sans Pro'),local('SourceSansPro-Regular'),url(/fonts/google/Source_Sans_Pro_400.woff) format('woff')}@font-face{font-family:Source Sans Pro;font-weight:600;src:local('Source Sans Pro Semibold'),local('SourceSansPro-Semibold'),url(/fonts/google/Source_Sans_Pro_600.woff) format('woff')}@font-face{font-family:Source Sans Pro;font-weight:700;src:local('Source Sans Pro Bold'),local('SourceSansPro-Bold'),url(/fonts/google/Source_Sans_Pro_700.woff) format('woff')}@font-face{font-family:Source Sans Pro;font-weight:300;src:local('Source Sans Pro Light'),local('SourceSansPro-Light'),url(/fonts/google/Source_Sans_Pro_300.woff) format('woff')}.btn{font-weight:700}.btn.-normal,.buttonAuth{display:block;width:230px;margin:30px auto 0;text-transform:uppercase;cursor:pointer;text-align:center;color:#fff;font-size:16px;padding:11px 0;border:none;border-radius:3px;text-decoration:none;line-height:1;outline:none}.btn.-normal{background-color:#777;width:auto;padding-left:20px;padding-right:20px}.btn.-normal:hover{text-decoration:none}.btn.-normal.-outlined{color:#777;background-color:#fff;box-shadow:0 0 0 2px #777 inset}.btn.-normal.-outlined:hover{background-color:#777;color:#fff}.btn.-small{font-size:12px;padding:8px 15px}.btn.-small.-outlined{box-shadow:0 0 0 1px #777 inset}.buttonAuth{background:#fc6320}.buttonAuth:hover{background:#ff7d44}.buttonAuth:active{box-shadow:inset 2px 2px 3px rgba(0,0,0,.25)}html,body{overflow-x:hidden}body{font-family:Lato,Arial,Helvetica,sans-serif}button{font-weight:700}input{-webkit-transition:none!important;transition:none!important}.lozad{-webkit-animation:fade 1s;animation:fade 1s}.btn{font-weight:700}@media only screen and (min-width:320px) and (max-width:675px){.carousel{display:none}}#body.-page-promo-home{font-family:Source Sans Pro,sans-serif}.sectionMain{padding:80px 0;background-repeat:no-repeat;background-position:center center;background-size:cover;position:relative;overflow:hidden;min-height:470px}.sectionMain:not(.-customers){background:-webkit-linear-gradient(75deg,#009cdd,#2a438b);background:linear-gradient(15deg,#009cdd,#2a438b)}.sectionMain .mainText-play{display:inline-block;cursor:pointer}@media only screen and (min-width:768px) and (max-width:1024px){.sectionMain{padding:80px 20px 50px}}@media only screen and (min-width:676px) and (max-width:767px){.sectionMain{padding:80px 20px 50px}}@media only screen and (min-width:320px) and (max-width:675px){.sectionMain{padding:0;min-height:100vh;overflow:auto}.sectionMain .mainText{font-size:.5em;margin-bottom:0}.sectionMain .mainText-play img{max-width:50px}}.sectionMain.-showVideo .sectionMain-innerWrapper,.sectionMain.-showVideo .sectionMain-scroll{display:none}.sectionMain.-showVideo .videoWrapper{display:block}.sectionMain-bgImage,.sectionMain-gradient{position:absolute;left:0;top:0;right:0;bottom:0;background:-webkit-linear-gradient(45deg,rgba(31,148,224,.9),rgba(53,54,128,.8));background:linear-gradient(45deg,rgba(31,148,224,.9),rgba(53,54,128,.8))}.sectionMain-gradient{z-index:10}@media screen and (min-width:1080px) and (min-height:667px){.sectionMain.-home{min-height:calc(100vh - 85px);display:-webkit-box;display:-ms-flexbox;display:flex;-webkit-box-orient:vertical;-webkit-box-direction:normal;-ms-flex-direction:column;flex-direction:column;overflow:hidden}.sectionMain.-home>*{-ms-flex-negative:0;flex-shrink:0}.sectionMain.-home .sectionMain-innerWrapper{-webkit-box-flex:1;-ms-flex:1;flex:1;display:-webkit-box;display:-ms-flexbox;display:flex;-webkit-box-orient:vertical;-webkit-box-direction:normal;-ms-flex-direction:column;flex-direction:column;overflow:hidden}.sectionMain.-home .sectionMain-topBottomWrapper{-webkit-box-flex:1;-ms-flex:1;flex:1}.sectionMain.-home .sectionMain-bottom{-ms-flex-negative:0;flex-shrink:0;-webkit-box-flex:0;-ms-flex-positive:0;flex-grow:0;-ms-flex-preferred-size:auto;flex-basis:auto}.sectionMain.-home .sectionMain-informItems{-webkit-box-flex:1;-ms-flex:1;flex:1;-webkit-box-align:center;-ms-flex-align:center;align-items:center}}.sectionMain-button{font-size:14px;text-transform:uppercase;text-decoration:none;color:#fff;border:2px solid #fff;border-radius:3px;padding:5px 10px;margin-top:30px;cursor:pointer}.sectionMain-video{display:-webkit-box;display:-ms-flexbox;display:flex;-webkit-box-pack:center;-ms-flex-pack:center;justify-content:center;-webkit-box-align:center;-ms-flex-align:center;align-items:center;color:#fff;font-size:18px;margin-top:35px}@media only screen and (min-width:320px) and (max-width:675px){.sectionMain-video{display:none}}.sectionMain-videoWrapper{display:-webkit-box;display:-ms-flexbox;display:flex;-webkit-box-pack:center;-ms-flex-pack:center;justify-content:center;-webkit-box-align:center;-ms-flex-align:center;align-items:center;cursor:pointer}.sectionMain-videoWrapper-text{margin:0 16px}a.sectionMain-videoWrapper{text-decoration:none;color:#fff}.sectionMain-videoWrapper:hover .sectionMain-videoBtn{background:rgba(255,255,255,.8)}.sectionMain-videoBtn{display:-webkit-box;display:-ms-flexbox;display:flex;-webkit-box-pack:center;-ms-flex-pack:center;justify-content:center;-webkit-box-align:center;-ms-flex-align:center;align-items:center;width:38px;height:38px;background:#fff;border-radius:100%;margin-right:15px;position:relative}.sectionMain-videoBtn:before{content:'';position:absolute;top:50%;left:50%;margin:-7px 0 0 -4px;width:10px;height:12px;border:7px solid transparent;border-left:11px solid #0b84c7}.sectionMain-videoBtn img{width:14px;margin-left:4px}.sectionMain-innerWrapper{position:relative;padding-right:20px;padding-left:20px;z-index:20}@media only screen and (min-width:1500px) and (max-width:1980px){.sectionMain-innerWrapper{max-width:1200px;margin:0 auto}}@media only screen and (min-width:768px) and (max-width:1024px){.sectionMain-innerWrapper{padding-right:10px;padding-left:10px}}@media only screen and (min-width:320px) and (max-width:675px){.sectionMain-innerWrapper{min-height:calc(100vh - 20px);display:-webkit-box;display:-ms-flexbox;display:flex;-webkit-box-align:center;-ms-flex-align:center;align-items:center;-webkit-box-pack:center;-ms-flex-pack:center;justify-content:center;padding:10px}}@media only screen and (min-width:1024px) and (max-width:1499px){.sectionMain-innerWrapper{max-width:1200px;margin:0 auto}}.sectionMain-informItems{display:-webkit-box;display:-ms-flexbox;display:flex;-ms-flex-wrap:wrap;flex-wrap:wrap;-webkit-box-pack:center;-ms-flex-pack:center;justify-content:center;overflow:hidden;margin-top:35px}@media only screen and (min-width:1024px) and (max-width:1499px){.sectionMain-informItems{-ms-flex-wrap:nowrap;flex-wrap:nowrap}}@media only screen and (min-width:1500px) and (max-width:1980px){.sectionMain-informItems{-ms-flex-wrap:nowrap;flex-wrap:nowrap}}.sectionMain-informItem{width:100%;max-width:320px;background-color:rgba(255,255,255,.1);color:#fff;display:-webkit-box;display:-ms-flexbox;display:flex;overflow:hidden;-webkit-box-orient:vertical;-webkit-box-direction:normal;-ms-flex-direction:column;flex-direction:column;padding:30px;font-size:16px;border-radius:3px;margin:15px;-webkit-transition:all .3s;transition:all .3s;text-decoration:none;box-shadow:0 0 0 0 rgba(255,255,255,.1)}.sectionMain-informItem:hover{background-color:rgba(255,255,255,.3);box-shadow:0 0 3px 5px rgba(255,255,255,.3);border-radius:0}.sectionMain-informTitle{font-size:24px;margin-bottom:20px;-ms-flex-negative:0;flex-shrink:0}.sectionMain-informDescription{-webkit-box-flex:1;-ms-flex:1;flex:1}.sectionMain-informButton{display:block;text-transform:uppercase;position:relative;-ms-flex-item-align:end;align-self:flex-end;margin-top:15px;padding-right:25px;-ms-flex-negative:0;flex-shrink:0;color:#fff;text-decoration:none;cursor:pointer}.sectionMain-informButton img{width:15px;height:15px;-webkit-transform:rotate(-90deg);transform:rotate(-90deg);position:absolute;top:3px;right:0}.sectionMain-topBottomWrapper{display:-webkit-box;display:-ms-flexbox;display:flex;-ms-flex-wrap:wrap;flex-wrap:wrap;-webkit-box-orient:vertical;-webkit-box-direction:normal;-ms-flex-direction:column;flex-direction:column}@media only screen and (min-width:320px) and (max-width:675px){.sectionMain-topBottomWrapper{-webkit-box-align:center;-ms-flex-align:center;align-items:center;-webkit-box-pack:center;-ms-flex-pack:center;justify-content:center}}.sectionMain-top{min-width:300px}@media only screen and (min-width:768px) and (max-width:1024px){.sectionMain-top{-webkit-box-flex:0;-ms-flex:none;flex:none;margin-left:10px}}@media only screen and (min-width:676px) and (max-width:767px){.sectionMain-top{-webkit-box-flex:0;-ms-flex:none;flex:none}}@media only screen and (min-width:320px) and (max-width:675px){.sectionMain-top{-ms-flex-item-align:center;-ms-grid-row-align:center;align-self:center}}.sectionMain-top .-hidden{visibility:hidden}.sectionMain-bottom{min-width:300px;max-width:700px;padding-top:30px;-webkit-box-flex:7;-ms-flex:7;flex:7;text-align:center;display:-webkit-box;display:-ms-flexbox;display:flex;-webkit-box-orient:vertical;-webkit-box-direction:normal;-ms-flex-direction:column;flex-direction:column;-webkit-box-align:center;-ms-flex-align:center;align-items:center;-ms-flex-item-align:center;align-self:center}@media only screen and (min-width:768px) and (max-width:1024px){.sectionMain-bottom{margin-left:0;-webkit-box-flex:1;-ms-flex:1;flex:1;padding-top:30px}}@media only screen and (min-width:676px) and (max-width:767px){.sectionMain-bottom{margin-left:0;-webkit-box-flex:1;-ms-flex:1;flex:1;padding-top:30px}}@media only screen and (min-width:320px) and (max-width:675px){.sectionMain-bottom{margin-top:20px;margin-bottom:70px}}@media only screen and (min-width:320px) and (max-width:675px){.sectionMain-bottom{text-align:center}}.sectionMain-bottom p{font-family:Source Sans Pro,Arial,sans-serif;font-weight:300;font-size:42px;color:#fff}.sectionMain-bottom p.u-smallText{font-size:16px;font-weight:400;max-width:550px;margin-top:30px}@media only screen and (min-width:320px) and (max-width:675px){.sectionMain-bottom p.u-smallText{display:none}}@media only screen and (min-width:676px) and (max-width:767px){.sectionMain-bottom p p{margin-left:-10px}}@media only screen and (min-width:768px) and (max-width:1024px){.sectionMain-bottom p{font-size:2.4em}}@media only screen and (min-width:676px) and (max-width:767px){.sectionMain-bottom p{font-size:2em}}@media only screen and (min-width:320px) and (max-width:675px){.sectionMain-bottom p{font-size:1.8em}}.sectionMain-subtitle{font-size:18px;color:#fff;font-weight:600;margin-top:35px}@media only screen and (min-width:320px) and (max-width:675px){.sectionMain-subtitle.-desktop{display:none}}.sectionMain-subtitle.-mobile{display:none}@media only screen and (min-width:320px) and (max-width:675px){.sectionMain-subtitle.-mobile{display:block}}.sectionMain-request{font-size:16px;width:190px;margin-top:10px}.sectionMain-request+.sectionMain-request{margin-left:15px}@media only screen and (min-width:320px) and (max-width:675px){.sectionMain .loginButtons{display:-webkit-box;display:-ms-flexbox;display:flex;-webkit-box-orient:vertical;-webkit-box-direction:normal;-ms-flex-direction:column;flex-direction:column;-webkit-box-align:center;-ms-flex-align:center;align-items:center}.sectionMain .loginButtons .sectionMain-request{margin-left:0}}.sectionMain-scroll{color:#fff}.sectionMain-scroll img{height:25px}@media only screen and (min-width:320px) and (max-width:675px){.sectionMain-scroll{display:none}}.adList{padding:60px;color:#585766;font-size:14px;display:-webkit-box;display:-ms-flexbox;display:flex;-ms-flex-wrap:wrap;flex-wrap:wrap}@media only screen and (min-width:320px) and (max-width:675px){.adList{padding:10px}}.adList-icon{-ms-flex-negative:0;flex-shrink:0;padding-top:15px;padding-right:20px}.adList-icon img{width:100%;height:auto;display:block}.adList-item{display:-webkit-box;display:-ms-flexbox;display:flex;width:48%;margin:2% 1%;padding:1%}@media only screen and (min-width:320px) and (max-width:675px){.adList-item{width:100%}}.adList-title{font-size:24px;margin-bottom:15px}.informList{padding:75px 60px;color:#585766;font-size:16px;display:-webkit-box;display:-ms-flexbox;display:flex;overflow:hidden;-ms-flex-wrap:wrap;flex-wrap:wrap}@media only screen and (min-width:320px) and (max-width:675px){.informList{padding:10px}}.informList-item{width:48%;margin:2% 1%;padding:1%;display:-webkit-box;display:-ms-flexbox;display:flex;-webkit-box-orient:vertical;-webkit-box-direction:normal;-ms-flex-direction:column;flex-direction:column;margin-bottom:50px}@media only screen and (min-width:320px) and (max-width:675px){.informList-item{width:100%}}.informList-title{font-size:28px;margin-bottom:15px}.informList-list ul{padding-left:30px}.informList-list ul a{color:#ff6200}.informList li+li{margin-top:12px}.informList-button{color:#ff6200;font-size:16px;text-decoration:none;text-transform:uppercase;cursor:pointer;-ms-flex-item-align:end;align-self:flex-end;margin-top:10px}.informList-button img{width:14px;height:12px;margin-left:10px}.sectionMain-request,.loginRegister a{font-family:Source Sans Pro,Arial,sans-serif;font-weight:600;text-decoration:none;text-transform:uppercase;color:#fff;background:#fc6320;box-shadow:0 2px 4px rgba(0,0,0,.5);padding:6px 10px;text-align:center;display:inline-block;border-radius:3px}.sectionMain-request:hover,.loginRegister a:hover,.request-buttonReq:hover{background:#e75900}.sectionMain-scroll{position:absolute;left:0;right:0;bottom:0;text-align:center;padding-bottom:25px;z-index:20}.schools{background:#ecebf2;padding:25px 10px;text-align:center}.schools img{padding:10px;width:180px;max-height:90px;vertical-align:middle}@media only screen and (min-width:676px) and (max-width:767px){.schools img{padding:10px 20px;width:200px}}@media only screen and (min-width:768px) and (max-width:1024px){.schools img{padding:10px 40px;width:240px}}@media(min-width:980px){.schools img{padding:10px 60px;width:280px}}@media(min-width:1125px){.schools img{padding:10px;width:180px}}.schools h1{font-family:Source Sans Pro,Arial,sans-serif;font-weight:300;font-size:28px;color:#585766}.schools-logos-first{display:-webkit-box;display:-ms-flexbox;display:flex;-ms-flex-wrap:wrap;flex-wrap:wrap;-ms-flex-pack:distribute;justify-content:space-around;-webkit-box-align:center;-ms-flex-align:center;align-items:center}.menu{padding:50px 0;display:-webkit-box;display:-ms-flexbox;display:flex;-webkit-box-orient:vertical;-webkit-box-direction:normal;-ms-flex-direction:column;flex-direction:column;-webkit-box-pack:center;-ms-flex-pack:center;justify-content:center;-webkit-box-align:center;-ms-flex-align:center;align-items:center}.menu a{-ms-flex-negative:0;flex-shrink:0;font-weight:600;text-decoration:none;text-transform:uppercase;color:#28418d;margin-bottom:30px;font-size:24px;max-width:320px;width:100%;text-align:center;padding:10px 0}.menu a:active{background:rgba(252,99,33,.1)}.menu :last-child{margin:0}.cases{text-align:center;padding-bottom:115px;padding-top:80px;color:#6b6b7a;font-size:28px}.cases-firstLine{font-family:Source Sans Pro,Arial,sans-serif;margin-bottom:10px}@media only screen and (min-width:768px) and (max-width:1024px){.cases-firstLine{font-size:2.2em}}@media only screen and (min-width:676px) and (max-width:767px){.cases-firstLine{font-size:2em}}@media only screen and (min-width:320px) and (max-width:675px){.cases-firstLine{font-size:1.8em}}.cases-secondLine{font-family:Source Sans Pro,Arial,sans-serif;font-weight:300}@media only screen and (min-width:768px) and (max-width:1024px){.cases-secondLine{font-size:1.8em}}@media only screen and (min-width:320px) and (max-width:675px){.cases-secondLine{font-size:1.7em}}@media only screen and (min-width:320px) and (max-width:675px){.cases-secondLine{font-size:1.6em}}.cases-explore{display:inline-block;text-decoration:none;background:#ff6200;font-family:Source Sans Pro,Arial,sans-serif;font-weight:400;color:#fff;text-transform:uppercase;border:none;padding:10px 120px;font-size:18px;border-radius:3px;margin-top:40px}.instructors{padding-top:40px;padding-bottom:50px;background-image:-webkit-linear-gradient(45deg,#a9d1e2,#259dd5);background-image:linear-gradient(45deg,#a9d1e2,#259dd5)}.instructors-firstLineWrapper{text-align:center;margin-bottom:45px}.instructors-firstLine,.instructors-secondLine{color:#fefffe;font-family:Source Sans Pro,Arial,sans-serif;font-weight:300;font-size:3em;padding-bottom:50px}.instructors-secondLineWrapper{text-align:center;margin:45px 0}.pros{background:#fff}.pros-contentWrapper{padding-bottom:50px;padding-top:25px;max-width:980px;margin:0 auto}.pros-firstLineWrapper{text-align:center;margin-bottom:70px}.pros-firstLine{font-weight:300;font-size:2.25em;font-family:Source Sans Pro,Arial,sans-serif;color:#2a438b}.Testimonial-profComment{margin-top:20px;display:-webkit-box;display:-ms-flexbox;display:flex;text-align:stretch}.Testimonial-profCommentCircle{height:60px;width:60px;float:left;background:#d8d8d8;border-radius:50%;background-position:center center;background-repeat:no-repeat;background-size:cover;-webkit-filter:grayscale(.5)}.Testimonial-profCommentCircleWrapper{margin-right:10px;-ms-flex-negative:0;flex-shrink:0}.Testimonial-profText{font-style:italic;line-height:1.5;max-width:500px;margin-left:10px;color:#585766}.Testimonial-profFeedback:before{content:'"'}.Testimonial-profFeedback:after{content:'"'}.Testimonial-profName{font-weight:600;font-style:normal}.showcase{font-family:Source Sans Pro,Arial,sans-serif;padding:75px 24px}.showcase.-greyBg{background:#ecebf2}.showcase-wrapper{display:-webkit-box;display:-ms-flexbox;display:flex;-ms-flex-wrap:wrap;flex-wrap:wrap}.showcase-universityImg{margin-top:15px}.showcase-readMore{display:block;text-transform:uppercase;position:relative;-ms-flex-item-align:end;align-self:flex-end;margin-top:15px;padding-right:25px;-ms-flex-negative:0;flex-shrink:0;color:#ff7800;text-decoration:none;cursor:pointer;font-size:16px}.showcase-readMore img{width:10px;height:12px;position:absolute;top:5px;right:0}.showcase-description{-webkit-box-flex:1;-ms-flex:1;flex:1;min-width:300px;max-width:500px;margin:0 16px 24px 0}#body.-page-promo-services .showcase-description{display:-webkit-box;display:-ms-flexbox;display:flex;-webkit-box-orient:vertical;-webkit-box-direction:normal;-ms-flex-direction:column;flex-direction:column;-webkit-box-pack:center;-ms-flex-pack:center;justify-content:center}.showcase-header{font-size:28px;color:#585766;max-width:450px;margin-bottom:16px}.showcase-text{max-width:420px;font-size:16px;line-height:24px;color:#585766}.showcase-images{display:-webkit-box;display:-ms-flexbox;display:flex;-webkit-box-align:center;-ms-flex-align:center;align-items:center;margin-top:46px;-ms-flex-wrap:wrap;flex-wrap:wrap}.showcase-imagesWrapper{margin:0 24px 16px 0;max-width:198px}.showcase-imagesWrapper:last-child{margin-right:0}.showcase-imagesWrapper img{width:100%}.showcase-imagesWrapper.-fullWidth{max-width:100%}.showcase-content{color:#585766;font-size:18px;display:-webkit-box;display:-ms-flexbox;display:flex;-webkit-box-orient:vertical;-webkit-box-direction:normal;-ms-flex-direction:column;flex-direction:column}.showcase-content span{color:#ff7800;text-decoration:none}.showcase-profComment{margin-top:20px;display:-webkit-box;display:-ms-flexbox;display:flex;text-align:stretch}.showcase-profCommentCircle{height:60px;width:60px;float:left;background:#d8d8d8;border-radius:50%;background-position:center center;background-repeat:no-repeat;background-size:cover;-webkit-filter:grayscale(.5)}.showcase-profCommentCircleWrapper{margin-right:10px;-ms-flex-negative:0;flex-shrink:0}.showcase-profText{font-style:italic;line-height:1.5;max-width:350px;margin-left:10px;color:#585766}.showcase-profFeedback:before{content:'"'}.showcase-profFeedback:after{content:'"'}.showcase-profName{font-weight:600;font-style:normal}.showcase-img{min-width:300px;-webkit-box-flex:1;-ms-flex:1;flex:1}.showcase-imgWrapper{max-height:470px}.showcase-imgWrapper img{width:100%;height:auto;display:block;box-shadow:0 4px 6px rgba(100,98,116,.36)}.showcase-imgWrapper img.-noMaxWidth{width:auto}.showcase-imgTitle{text-align:center;padding-right:50px}.containerMain{max-width:1000px;margin:0 auto}.containerHuge{max-width:1400px;margin:0 auto}.footer{background:-webkit-linear-gradient(75deg,#009cdd,#2a438b) no-repeat center center;background:linear-gradient(15deg,#009cdd,#2a438b) no-repeat center center;background-size:cover;padding-bottom:40px}.footer-contentWrapper{max-width:980px;margin:0 auto;padding-top:110px}@media only screen and (min-width:320px) and (max-width:675px){.footer-contentWrapper{padding-left:10px}}.footer-header{margin-top:10px;margin-bottom:35px;text-align:center;color:#fff;font-size:28px;font-family:Source Sans Pro,Arial,sans-serif}@media only screen and (min-width:320px) and (max-width:675px){.footer-header{font-size:1.6em}}.TheButton{font-size:18px;color:#fff;background:#ff6200;border-radius:3px;border:none;font-family:Source Sans Pro,Arial,sans-serif;margin:0 auto;cursor:pointer;padding:7px 15px;font-weight:400;text-transform:uppercase;display:inline-block;text-decoration:none}.request{margin:0 auto;max-width:980px;display:-webkit-box;display:-ms-flexbox;display:flex;-ms-flex-wrap:wrap;flex-wrap:wrap}@media only screen and (min-width:320px) and (max-width:675px){.request{-webkit-box-orient:vertical;-webkit-box-direction:normal;-ms-flex-direction:column;flex-direction:column}}@media only screen and (min-width:768px) and (max-width:1024px){.request{-webkit-box-orient:vertical;-webkit-box-direction:normal;-ms-flex-direction:column;flex-direction:column}}@media only screen and (min-width:676px) and (max-width:767px){.request{-webkit-box-orient:vertical;-webkit-box-direction:normal;-ms-flex-direction:column;flex-direction:column}}.request-buttonReq{font-size:18px;color:#fff;background:#ff6200;border-radius:3px;border:none;font-family:Source Sans Pro,Arial,sans-serif;margin:0 auto;cursor:pointer;padding:7px 65px;font-weight:400;margin-bottom:150px;text-transform:uppercase;display:inline-block;text-decoration:none}.request-wrapper{padding-bottom:45px;border-bottom:1px solid #fff;text-align:center}@media only screen and (min-width:320px) and (max-width:675px){.request-wrapper{padding-bottom:30px}}.request input{min-width:200px;color:#fff;-webkit-box-flex:1;-ms-flex:1;flex:1;margin-right:10px;margin-left:10px;background:rgba(255,255,255,0);border:2px solid #fff;padding:9px;font-size:1em;border-radius:3px;margin-bottom:20px}@media only screen and (min-width:768px) and (max-width:1024px){.request input{max-width:260px;margin-left:calc(50% - 130px)}}@media only screen and (min-width:676px) and (max-width:767px){.request input{max-width:260px;margin-left:calc(50% - 130px)}}.request ::-webkit-input-placeholder{color:#fff}.request button{-webkit-box-flex:1;-ms-flex:1;flex:1;background:#fd6320;color:#ffe7da;font-weight:300;text-transform:uppercase;border-radius:2px;border:none;font-size:1em;min-width:260px;max-width:260px;max-height:38px;margin-right:10px;margin-left:10px;padding:10px}@media only screen and (min-width:768px) and (max-width:1024px){.request button{margin-left:calc(50% - 130px)}}@media only screen and (min-width:676px) and (max-width:767px){.request button{margin-left:calc(50% - 130px)}}@media only screen and (min-width:320px) and (max-width:675px){.request button{margin-left:calc(50% - 130px)}}.request-sendRequestWrapper{position:relative}.mainText{margin-bottom:20px}@media only screen and (min-width:676px) and (max-width:767px){.mainText{font-size:.8em}}.mainTextWrapper{margin:0 auto;max-width:980px;text-align:center;font-size:2.8em;font-weight:300;line-height:1.3;color:#fff;margin-top:110px;margin-bottom:120px}.mainText-play img{height:125px}@media only screen and (min-width:676px) and (max-width:767px){.mainText-play img{height:70px}}.profs{max-width:680px;margin:0 auto}.profsWrapper{background:#fff;padding-top:50px;padding-bottom:100px}@media only screen and (min-width:320px) and (max-width:675px){.profsWrapper{margin-top:0;padding-top:10px;padding-bottom:10px}}.profs-headerWrapper{display:-webkit-box;display:-ms-flexbox;display:flex;margin-bottom:40px}.profs-photo{display:inline-block;-webkit-box-flex:1;-ms-flex:1;flex:1;border-radius:50%;overflow:hidden;height:120px;width:120px;margin-right:40px;background-position:center center;background-repeat:no-repeat;background-size:cover}@media only screen and (min-width:320px) and (max-width:675px){.profs-photo{margin-right:0;margin-bottom:10px}}.profs-info{display:inline-block;-webkit-box-flex:2;-ms-flex:2;flex:2;max-width:500px}.profs-infoName{font-size:1.8em;color:#7d7d7d;margin-bottom:7px}.profs-infoJob{font-size:1.4em;font-weight:300;color:#9b9b9b;margin-bottom:15px}.profs-infoSchool{font-size:1.25em;color:#aeaeae;font-family:Times New Roman;font-weight:700}.profs-infoSchool img{max-height:30px}.profs-main{line-height:1.5;color:#757575;font-size:1.2em;font-weight:300}@media only screen and (min-width:676px) and (max-width:767px){.profs-main{padding:0 5px}}.profs-main p.-hidden{position:relative;max-height:100px;overflow:hidden}.profs-main p.-hidden:after{position:absolute;top:0;bottom:0;right:0;left:0;background-image:-webkit-linear-gradient(top,rgba(255,255,255,0) 0,#fff 100%);background-image:linear-gradient(to bottom,rgba(255,255,255,0) 0,#fff 100%);content:""}.profs-main a{text-transform:uppercase;color:#acacac;font-size:.7em;font-weight:700;cursor:pointer;text-decoration:none}.profs-readMoreWrapper{text-align:center;border-bottom:1px solid #b2b2b2;padding-bottom:5;position:relative}.profs-readMoreWrapper.-full{border-bottom:none}.profs-readMoreWrapper:after{content:"";position:absolute;left:-20%;right:-20%;bottom:-1px;height:1px}.profs-main-quote{background:#eff4fc;font-weight:300;font-style:italic;padding:40px 30px;margin:50px 0 10px;font-size:1.38em;line-height:1.3;position:relative}@media only screen and (min-width:320px) and (max-width:675px){.profs-main-quote{font-size:1.1em;padding:30px 10px}}.profs-main-quoteImg{position:absolute;top:-25px;left:10px}@media only screen and (min-width:320px) and (max-width:675px){.profs-headerWrapper{padding:10px;text-align:center;margin-bottom:10px;font-size:11px;line-height:1;display:relative}}@media only screen and (min-width:320px) and (max-width:675px){.profs-header{max-width:200px;margin:0 auto}}@media only screen and (min-width:320px) and (max-width:675px){.profs-main{padding:10px;font-size:1em}}.loginRegister{-webkit-box-pack:center;-ms-flex-pack:center;justify-content:center;-webkit-box-align:center;-ms-flex-align:center;align-items:center}@media only screen and (min-width:320px) and (max-width:675px){.loginRegister{margin-top:10px}}.mobileLogin{display:none}@media only screen and (min-width:320px) and (max-width:675px){.mobileLogin{display:block}}@media only screen and (min-width:320px) and (max-width:675px){.schools,.pros,.instructors,.cases,.footer{display:none}}.fluidVideo{position:relative;padding-bottom:177.77777777777777%}.fluidVideo height 0 iframe{position:absolute;top:0;left:0;width:100%;height:100%}.videoWrapper{width:100%;height:100%;top:0;left:0;position:absolute;display:none;z-index:20}.videoWrapper-inner{height:100%;position:relative}.videoWrapper-inner iframe{width:100%;height:100%;top:0;left:0;position:absolute}.videoWrapper-xMark{width:40px;height:40px;display:-webkit-box;display:-ms-flexbox;display:flex;-webkit-box-pack:center;-ms-flex-pack:center;justify-content:center;-webkit-box-align:center;-ms-flex-align:center;align-items:center;font-size:30px;cursor:pointer;color:#fff;position:absolute;top:10px;right:10px;text-decoration:none;z-index:200}@media only screen and (min-width:1024px) and (max-width:1499px){.videoWrapper-xMark{top:40px}}@media only screen and (min-width:768px) and (max-width:1024px){.videoWrapper-xMark{top:40px}}@media only screen and (min-width:676px) and (max-width:767px){.videoWrapper-xMark{top:40px}}@media only screen and (min-width:320px) and (max-width:675px){.videoWrapper-xMark{top:40px}}@-webkit-keyframes fade{from{opacity:0}to{opacity:1}}@keyframes fade{from{opacity:0}to{opacity:1}}.DMTether{position:absolute;cursor:pointer;visibility:hidden;z-index:4000}.DMTether.-show{visibility:visible}.DMTether.-show:not(.-instant){opacity:0;-webkit-animation:.5s showTether forwards;animation:.5s showTether forwards}.DMTether-disableTetherBG{position:fixed;top:0;left:0;bottom:0;right:0;z-index:3500}@-webkit-keyframes showTether{from{opacity:0}to{opacity:1}}@keyframes showTether{from{opacity:0}to{opacity:1}}.DMAutocomplete-wrapper{position:relative}.DMAutocomplete-wrapper.-readonly{display:none}.DMAutocomplete-tetherWrapper{position:absolute;right:0;bottom:-4px}.DMAutocomplete-itemsWrapper{width:390px;display:-webkit-box;display:-ms-flexbox;display:flex;-webkit-box-pack:end;-ms-flex-pack:end;justify-content:flex-end}.DMAutocomplete-items{max-width:392px;background:#fff;box-shadow:0 0 2px 0 rgba(0,0,0,.24);border-radius:3px;overflow:auto}.DMAutocomplete-items .DMAutocomplete-item{padding-left:24px;padding-right:24px}.DMAutocomplete-items .DMAutocomplete-item:not(.-thereAreNoResults):hover{background-color:#e3f2fd}.DMAutocomplete-items .DMAutocomplete-item:not(.-thereAreNoResults):hover .DMAutocomplete-templateWrapper:before,.DMAutocomplete-items .DMAutocomplete-item:not(.-thereAreNoResults):hover .U-fading:before{background:-webkit-linear-gradient(right,#e3f2fd,rgba(227,242,253,.24));background:linear-gradient(to left,#e3f2fd,rgba(227,242,253,.24))}.DMAutocomplete-items .DMAutocomplete-item.-thereAreNoResults{color:#ff9800}.DMAutocomplete-templateWrapper{-webkit-box-flex:1;-ms-flex:1;flex:1}.DMAutocomplete-selectedItems{margin-top:4px}.DMAutocomplete-selectedItems .DMAutocomplete-item{padding-left:16px;padding-right:16px}.DMAutocomplete-selectedItems .DMAutocomplete-item .DMAutocomplete-removeItem{visibility:hidden}.DMAutocomplete-selectedItems .DMAutocomplete-item:hover .DMAutocomplete-removeItem{visibility:visible}.DMAutocomplete-selectedItems:not(.-readonly) .DMAutocomplete-item{cursor:pointer}.DMAutocomplete-item{padding:8px 0;display:-webkit-box;display:-ms-flexbox;display:flex;-webkit-box-pack:justify;-ms-flex-pack:justify;justify-content:space-between;-webkit-box-align:center;-ms-flex-align:center;align-items:center}.DMAutocomplete-item.-customItem,.DMAutocomplete-item.-thereAreNoResults{cursor:auto}.DMAutocomplete-removeItem{-ms-flex-negative:0;flex-shrink:0;width:16px;height:16px;background-size:cover;background-image:url('data:image/svg+xml;utf8,');margin-left:16px}.DMAutocomplete-additiontalInfo{padding:0 16px}.DMAutocomplete-link{cursor:pointer;color:#008ffc}.DMAvatar{display:-webkit-box;display:-ms-flexbox;display:flex;-webkit-box-pack:center;-ms-flex-pack:center;justify-content:center;-webkit-box-align:center;-ms-flex-align:center;align-items:center;background-position:center center;background-repeat:no-repeat;background-size:cover;border-radius:50%}.DMAvatar.-anonymous{background-image:url(data:image/png;base64,iVBORw0KGgoAAAANSUhEUgAAAKwAAACsCAYAAADmMUfYAAAABGdBTUEAALGPC/xhBQAAHNBJREFUeAHtnVtsHdW5x2fbSRzs3CBXk0tjnMQkJdBK4QRVFU0gbRISDi+A0GmhEg/nqbwWiVan9KgIlccDz0iFghDw0pbc2pRAVVVwFAkOgSQmMc4NnCvYcW6Oiff5/5ZnOeOdvb1vM3vPmj1Lmj0za89lfd/6zTffuk7GS0NRDWSz2eZdu3Z1fPvtt12ZTKZrZGTkOzppuransw4uOtbuc91BHTPIOrjoGLPf1NR0VNvdkyZN6t64cWOvjr3GSWkorIFM4b8a7x/A3L59+/cl+Wptd7EAqNadipsSsUau6l49ule31mbR/fY98MADH6UgX9d8QwMrODI7d+5cfe3atfukkvVafqS4mdfVM7olYLJTpkzJTJ061bvpppu8lpapXnPzJE8WUuvmvAtn6rp5F1loxX/rDQ1d8S5fvuxduXLFu3r1qm6dvSE/dO8BXep9LXt0r3c3bdq0j/Rw/UYMNygo6UoQoMsE0gbBcZ8WIJ0TlHnq1Ju8adOmeRZO9tkGzigDEAPulSuXxyC+cOGC2c+571kBu0fLuwJ4twA+nPN/oncbAli95ucKiMeUk08I0jXBHJXl9GbOnOlNnz7TrNmPU5Dl9QYGBrzBwQGzZj8YBO5e7b+iB+oNuQ9ngv8lcTuxwArSFlnSB5VpTyhTNwnUyWSgCjjZmTNnZWbMmOHNmDHTWE+XMhYrfP78gJbzArg/q4KgyUPJOCwZd0qWV2R5/yJ4h1ySq9S0Jg7Ybdu2rVXGPanlUSlhFoqQ9ckKzszcuXO9WbNujvz1Xqryqz0ON6K//xvvzJkzQJzVvs3PfgH8ppaXt2zZ8mG194nT+VbAOKWporS88847G3TirwTqOnuBtrZpHpDecstsb/JkY2DtX4lbDw8Pe19/fc7Ae/HihTH5BO172nlu69atu8ciHd5wGljBmdmxY8dWWRZAXUs+8MqfN29+Zs6cuaZE73DeVJx0ah7Onj3jnT59KugyfKg3zXObN29+RxA7W8vgJLCCs0k+6sOAqly9k5xVYSk7f/6CzIIFC/TKb644s5N04sjINe/kyZPeqVMnsyqs2bz+BHDl474tcEdck9cK4Uy65aM+JGBf0LKCRFOqv/XWhXr1z0uMbxp2ZuDrytp6fX1fUd9rL98tcJ+Wj/snG+HC2hlgaRqVn/aiQN2CYqkbbW+/1YAqS+GCruueRulOPu5pAy61DQTpbpv8+6doGq57AktIQOxzmuopWYhfSpZnpPCp+KiLFi3O6PVfgnjpIYU0IDfBO3HiuPVxLwvc52VxX4h7dVisgRWsPxGsLwnU5SiegtSSJd9JfIm/EGRhx1OzcOzYUVNA49qC9pCg/YWg/WvY9wrrerEEVn7qAkH6P1oeQVDa7zs6blNr1Iyw5E6vE9DA4OB5r7f3C9MkTLTAfUsu11MbNmw4FTgsFpuxA1bVVPer9eY1aWe+WmyyCxcuUsm/HSXGQmFJTYSMg2oU+rwvvzyRVQshyj4l9+unqgb7e5xkjg0FUliTLOtvtP61FNREs2ln5zJTCxAnhSU9LdQi9PQcNs2/knVEhuJ3qkn4rdaxqAKLBbDqQdWOVRWs66UYY1VlWZPORqzlk6U11lZ5oizJ7MHaqmdYX70TXXdgZVV/rILVH6WIeVOmtGQ7OzvVMeWGLqn11lND3p9ONj09PWp0GIKT0yqQ/UzW9m/1VEbdgOXJFazPWheALn6dncvTGoB60pDn3tQk9PQcMl0b9bd1EZ7lTZjn8Mij6gLsnj17Jqlz8suS7nEEp16V1qo0xFcDX331pam3xdAola+qk/uT69ev/7bWKa45sHv37m3t6+t7W4JuphZg+fKuDNY1DfHXAB3JDx3qtrUIO9rb2x9es2bNpVqmvKbAqnB1i14x2yTgPXRWWbGiK0MXwDS4owG6Ln7+ebftTPOBmnW3qDD2da0kqBmw6guwWLDu0itlZUtLi3f77SvVH+CmWsmZ3idEDTDu7ODBAxpEOUT9+AFBq64IG4+HeIuCl6oJsGpiXaWaAGBd1NraamCdPDleY6cKaij9I68GhoevGmgvXboEtCdUg7BRTbr78x4cYmTkwAKrWk7+oTTPpmm1q+t2Myw6RBnSS9VJA8pXr7v7oAZInicF51QmuTdqaCMF1ncD/oVlZSzV8uUr0j6rdYIrqtvqzamC2OdmbBmWVu7BD6J0DyIDlgKWWq/+ic+KZcVn1WsjKr3V/bqSc9ykGSRIFmdsUWbWPY1RJQBo8WmxtPi0ahX7YVQFsUi06Fdd0WniHnzWVavuSJQbQOdnMufixYtjE18EevLn5YKREfQ6o6DZ1tZmep7RCT0pAfdg//5PPXxahQ9U5XV/FFVeoQPrNwr8WYneTG3Ad797h1qv3C9gUQd57txZ5gIIDjOpijcg1hwJ3uzZc8wkHlVdLAYnUxD77LNPbe3Bdj2YD4XduBAqsHotZjTc+g/S3ePUs65cuUrzUblbdUW1DWOhGPdPZkQZeKgZkq4Rv5q7qyXKW0V6baq8DhzYb+tpX9Xw8p/LTQitGTfU4aV33333f0sbT9GCJZ8109raFqlyoro4Sqcnfq86NfPqZ/Rp1IF7DA4OMsLVTBKH+zBpkntzKZBmzaqTOXfunOxX9q5Dhw41vf7663vC0l9oFtbvdbVTT1Omq2ulk82tKiR6x48fM1Y1LAVXcx2s7eLFS5hroZrL1OVcXKju7gNAm1Vhe1NYvbxCAZb+rGrF+liamYeCXezIwmv/2LEjHtDGKQDrkiVLjbsQp3SVkhY6zGAAFE6ruut7YfSnrbqeiQdImfy6EjWPTiyuwQqgVH5/8cXh2MFKTpM+0kYa4/Ywkb6JAiz4HZvmwQisTHR8Kf9V7cPKb6VP68/pfI3fSt2jK4H5Vw8c+MxUT8U9zVSlUUtBnTa1C64EakHwZzWBc4f82Yz82feqSXtVLoE/YPCv+K3A6tJIASZOO3z4kKeHrRr91fxcqdpbtmy5meCu5jev8IaMXFDDglSdzcrF+Uk1AxsrNtG7d++eLzPP6NamhRrZ6hKslMRpTnQNVnghzaQdGVwJsAEjSi/u42uwU2naKwZWr6gXddP5fmIqvX/Nz2N+qSNHemt+37BviAzI4koQsGYCaaV3vs9ORUmvCFhmZNGT/gj1rQzFdiWM1gQcdSW5RdNJXTEyuRJgBWZgB4YqSXfZwOpGzHX1EjfDzLtSAGCm6t7enkp0FOtzkAnZXAiw4rsGaowZeQmWyk132cDqRr/UE7KclhhmZHEhUMJ2sYBVim6VF0Y2ZHQhwAzswBAslZvmsoBlykvd4BluwlxXlFjjHmyG0psoqQHZXHkgYQZ2/PCMz5TdL7ouC1i1ZjE/61RmEXRlYjb8vOCc/0U14ugByIisLgTYgSFYgqly0lwysOorwMzXW1SPlmXKSxfCpUsXzQRnLqQ1jDQymRsyuxBgCJZgCrZKTXNJwOqiTVpe4KJMeqF24VKvX9fjetXbqtGCKzLDECyRP/Jlfw9jpeRVSQepNPewLriCHvKuzHzN1Og0vTZaQGZkdyHAkj/qogvGSklzUWAFakZPAF9rMd8UKOWicTiGnkKNGlySne9UEGAM1orlWVFg+Q6WLnIndWh8qcWFwDeqXKnmiUKfyI4OXAgw5dfl3+mzNmGyiwJrrStdxVyoxkJalyzMhLlTxZ+u6ACmYItgWZtI7AmB5XOYMtNr9QRkXbGu+HB8CbDRAzpwxYf3raxQy671P8FaMPsmBFZnGd+VLwy6MqeAK6/CgjkS4h+u6AK2YMwX3TBXSA0FgVXdGF/FXkddGZ/DdCEovaaTswtprUUa6fCNTlwIMObXy66DvUJpLgisBH2Sk/jQsCvfbmWEq/pbFpK14eLRBTpxIcAYrJFWy16+dOcFll40OulRTqAJzZVw/rwbmVNLfbqkE8sa7MFgPj3lBVadKR7UwbOYbJieNa4EhmKkYbwGXNIJrPkTXM/yGRwvjPbyAqv4JziSmUhcCXoqnSkV11Kn1BSgG1dCgDnDYG66bwBWpniu6sY2qeSWveWW2bnHx3Z/aOiKUxlTK0UCK7pxJcAc7MEgLOam+wZgVXn7mIScrLFaznRyQai07jU3a6/vu6QbOsXAHgzC4nUpRrduAFbRzrkDiOJSpoyqvna/rulmIrdgHLCacmiZyF5DfRgzZrsU0uqswrnlmm5gz6+TXQOTQcnGASvBfsyfmq3DmZYtK0ySh8BYGStdu6YbWr5gEHmV9g1BuccBqz/W86emSwwe48S2a5lSS6W6qBvLoN749wV1NQas/sDR9YF178uEctCDcqXbAQ24qBsmaCHAJGxaccaAla+wWpFz6Jvo4tz7vEbSkF8DLuoGBv1+snN8No1wY7ms18Z9xLj63VeXZk3Mj1V0sa7qxrJo2URDY8DK7Bpgp093zx1AEFczhbRHHVzVTYBF46qiJwOsYG1Wy8K9RFiq2XYpqBrEpeTWNK2ujHLOVUqAxR/BKP8bYNUE9n1FzOSLL77fkHtu7Pdd6qRTa2W6WCZBR6PlKTOt0UwYJc66BBS4vGnT3P0UfAosOZg/uKybAJOGUesSdCGqy4K1tEx1ZpBkfqyiiWWQH7pxNdi3gzwAw+g4YO2fLgpHxgSeRhdFiCTN6ATduBqsER0HrAQy9Lr81UIyxFY2u5o5UaTbdZ1YJi2jzJnFlMidisi6bGFHgXWvSTkKSIPXtE2cwTiXtmESNmEUVpv8+TlVIJviXIeXXMUzjWNavXVdK+jClWlRr6d6/BatdLCp2Cmwylc9fHfAXcfciqgn0XwZ2+43+nr27DlO+682/+ybH1abrG9gnVt7kKtrO/LS1fSHme6k6MKyCatN6sljZid2ueojmMmUiq2AwfhG20YHSak1sWzCKhbWlFSam5PTtGknF2s0SIPyJkkHlk1YpZZgOoK62kEimEl2m1eh9XtsXCOtkT0p7gD5ZtmEVRoOEgcsQibJwiBPOSFpsltgpYPkAssUjknx4cqBFZldmRq1VLnGASu/wPR4cbFXejGBOzpuK3ZI4v5PosyWTVhNrEsAia2tbc58rTGMJ4evDCJz0sI4C5vEQlcww/gelD/BWDA6cdvI6Mr308pVvgU20YUuqxS9Rrxly5aPlTRtfJLWZCgyImsSgwVWsplCVxJlHCcT1TxJzVD7QDZKNR4+7CC56+JkC+OoLLLD9DcdHZ1FjnLvb2RybVqpcrUcYHOQlq6GABYlMclYkvw8ZAlMnFYuB84cb4GF1YaxsDZ3+PLe0qUddtfZNTLYrwg6K0SJCbfA6vBBOhA0jIW1+uEbpwx9Pnz4kHOTIMvKGH/cpcmmrd4rXQeBbTgLa5VGhq9adYdTw9oZ9kyaGwlW8isF1qeWZszVq+9yotBCwYq0NmJzcxBYXALzjXYXZ7jzuatqxTCSrq7b9cn2M96xY0di950v0rdkydKGKFwVykjLphoOBifpx3zc6tq1xv4gG6Xtm2++2Tt+/Jh3+vSpQrqrabw+tOYtXryk4cepBdgcnKSOBUch2KUvjURFDdaMziPt7e3mi+Bnz9b+05cUqubMmWO6R9ohzlHJ68p1LZuwioXtJuGufbghSmUDym23LfMWLlxsrC3uwvDw1ShvqVqLKea1j1VtaWmJ9F6uXdyyCasyKpO6h4eHvStX3PmWU60UDji8klkGBgbMh5cHBvq9q1fDgZdSv+byNyN9AzP11Uo8Z+5j2YRVZiho1jfqL+lVNHnNmn9zfm6CWuQCCuSjwxcvXtSDftm8nYpBDJwMDMR6t7W1mfkCGqX9v5o8wV3du/d/hWl2eOvWra2TBOo1AdujiJVkRGtrazXXb4hzAY0l+GVT6c/UF1IFY6th6GVkF3zTNJSvAZiUbqW+TA+smqGyisCPFbCXU2DL16k5AyAptLGkITwNwCTBZ3R0flgpOy14hafj9EohasAWuCyjNM3S8dcAa53bEO+XXirVQFUasExaRg2wuuI+rsqnytOQaiBOGggwaRg1wD7wwAMfieAB/IVipd04CZOmJdkagEWYhE0YRVrrElzT9vtEUN+YhlQDcdBAgMX3BS2MjgLrJ24P68HBFFhfH+mqzhoIsGjYJDnWh6W+8F0iAlSzm4ZUA3XTgGXRsklCxoDdtGkTTu3ZUb8hbaatWy6lNzYaoHbAL0+d9dk08WPAykegOcGY3vPnU7cg5aa+GrAMwiRs2tSMAUuE/jBuwfnzpousPSZdpxqouQYsg5ZJm4BxwMpX2M0f6pGUtb287YHpOtVArTQAezDI/SyT9t7jgJWvcFhE79XHDzL9/d/YY9J1qoGaagD2YBAWYTJ483HA+n+8wppOy2lINVAPDQTYMywG03ADsBqG8IbIHpbTm6VjdxpSDdRSAzAHezAIi7n3vgFYNYGdUVeunfIjMl9/fS73+HQ/1UCkGoA52INBWMy92Q3A+gcYUxwwzbnnpfupBiLRQIA5w2DuTfL2NlbJ7C/qNd9/8eKFWfRHbOTvXsn5NyOKh4aumjWV2ZRiR5fR0QVsX7t2PY59gl5pWprNurmZ7SYzAsHGsc/QGb5D1dIyum7kDuCwJuZQXT8MspEb8gIrUzykYTNvyiz/59mzZ8wgvNwTk7QPYChqdIzWaAsLQ4uvXBkSmKbPRc3EBeapU1sMxMDMUBzGgDHDNoAnOcAaQf7rmzCYT9a8wPonvQywmlQiu3DhQg1ObM53vpNxdFkbHLyg/r+Dpg/w5cuXYjMpHA/IpUuXzBJUrjJRb7pWM1XRtGnTNYhxmhnQGDzG5W3khjXJIFEzLxeSZcKRcbKyewTtOoY5u/ztp6GhIe+bb76mMlqgDo4NEiykFFfi9doUuNPNUPGbb77F6fkMvvrqSzPrjmB9T6Nj1xfKg4IW1j/hOa3XnTp1MqsvlDg1BJzXO5BSCc12EgOjc/v7+81y9OgR4zowaRzw4ka4EnDJYEzpxYDCXMEwoYXlLFnZD2Rl1y5d2uExr2qcA8Mp8IOAFKvayIFJQICXT3jGfcbDkyf7PB44WdcPZV3vmSjfillYHP3n9CT/GZPNNDq66ETXq/l/PJ3nzp31Tp48Kb8vmZa0EqXywMpqmWX0e2ULzAwzcSu4yRh6fX1fGRFhrZisRenTBTOysh/rQnd2dNxmoC120Vr8TxUIGYJFtRNX1OK+Lt8DnxeLy5syLlWVzBTZ2/sFav1E1vV7MohjXQnz6bpoPQkXsOTbJyHfhWoVxxRBBw7s9z755GMDbApr6ZpHVzzk6A4dost6B8sUjBWDlbQWtbAcJCvbtG3btgNar1haJ18W//TEiWPpEB4yJMTAJHSLFi2pi5/Lw3PkSC/SdMu6rhKwoy0uE8hX1MJyLhfS8ku2T5w4XtNOMZTwu7sPep99ti+FlQwIOTBuCt2i41rWptDJBZYQR9b16VJg5diSLCwHEuTLviMruwU/qLNz2WhkRL80gR47dtQUqCK6RXrZPBqYPXuO+ZYZrWxRhp6ew6b8IVC3ybpuLfVeJVlYezF9KugpbV+moBOl/4Mjjp9F6T8NtdUAOkf35EFUAXZgSOGyz1TJtyoL2I0bN/bqiXieq1Oyk7Ut+UalHEiT5P79n5prp4WpUjQWzTHonvwlL8iTMAPM+LUCuJrPw1Q51y8LWC4sf+MF3egQ1UpU+IYREIKPYXz66Sem6TSMa6bXqF4DNGOTJ+RNWMYJZmAHhmCp3FSWDSy9aHSjX3CjL788kfXHjpd737HjOZ8nmYaJsJQydvF0o2oNkCfkDXkURl7DDImCoUI9siZKdNnAcjHd6K96Qt7SqyOD81xpoK1/377/S2dNrFSBNTyPakXyijyrNMAKzMAODFVynYqA5Ubqp0kB7JTG32Bpy7o3Ty1tx59/3h27D7mVJUiDHUxndvKMvCv3bQgjsKJwymenIu1VDOyGDRtOqXf8T3XXEcy8n5iiicChP3jwQGj+b9EbpgeErgH8UPKQvCwl+EYNV2AEZmCnlPPyHVMxsFxs8+bNf5d5/52eNrkGPUUbFOiQQSV1qXDnS3AaFw8NkIfkZbFecTQQwAaMwArMVCNBWQ0H+W6khNBsu1vr9TTz3X77qnyHmSEovE6qddzzXjyNrJsGaGBYsaLLDOHJl4iDB/ebFkrBumfLli0btC7a/JrvOjauKgvLRUiA7xqcppmPEmVu4Gmks0UKa65m3N8nT8nbfG9NWPCnzDwNI9XCiraqBpaLaDqZPlVT/EybI7QP23k9+Q9BaKcu1d/hnDS4pQHyljwOQgsDfl+BEdiAkTCkCgVYEiJz/zc9QcafPXSoO8soVAvriDpZpyHZGiCPLbTkPQxYvxU2wpK+ah82mBASqP4xf1Dc42ojzqoahBk8goek2wnXgIwWH9ejAA5br6pfy88VFxoEoVlY8oGEafzQk9rcQYJTWNFKYwXy3Id1ByyECSuaDNXC2qzZu3dva19fH9UXEw4os8en68Rp4IP29vb716xZE27PGakpVAtr1U5C5RJs0dN1wMal68bQAHlO3kcBKxqMxMLarNm1a9divR7+pdfEIhuXrpOrAcF6QrD+QF0Gj0clZSQW1iaWhKtKY6P203k7rVKSuz5HXkcJK6qLFFhuoF45+5ubm+/l6WM/DcnTAHlLHpPXUUsXqUsQTLzvHuySe7AyGJ9uu60B32eN3LJaLUVuYe2NeFWofu6H2v+AOAkaWt2cvUe6ro0GAnn3AXkatRsQlKpmFtbe1K/yelv7mxFcoeZpsGlJ1+VrwOaZ1tsXLFjwSFS1AYVSVjMLaxOAgKpQ/nftv+rDmlpaq5z4r62BebWtre2hWsOKeupm3YBV3RKf1frXSkfNH5z4sxHLFDKhyu/UN+BZLG09Ulg3YK2wgvbH6jjxR+3Ps68b+1+6rr8GAnlyml5XYXZkqUS6ugNLonfu3NmujjKvy9qu0y5PbizSpXQ0ejB5IWjfU+HqP8LqIliNUmMDhmBl5MJvUhehmuwM/VzrAvxW0Maij2hsgLWq3rFjx/2ytq9pf37gdWT/TtcRayCgczPItNoxWGEnN3aFHRQkX4mJbd+StY3dAxV2BsTteugc3WvC47viBiu6ijUQ27dv/4kKZC9JicvjlrFJTI9AZfogZmSpaJKLWugkdhY2KDSKkwJXS5H/peUK/2ldl+qUYLqSsh3Q5WV0jK7jDKvJf1eUr74IHeqq+KKs7RZX0uxCOgXqNnUJfErNq71OpNeFRAbTqJqEh+Qm/F5xXcH4dLtsDXTLoj6tetU/lX1mHU+ItQ9bSC+ysk3ybx8WuL/SMXdyHK83BSflKSRnWPE5uvlEoD6nV//bio9FVVU5cjqdwQCqarCtgKvttQiekznl6CJxxwZ1oe0PAVUl/3eId1VYp4ENKl3DyzdoH3DXBeMbfVtwvicdPKfh1ruToIvEAGszQz7uWkH7pJZHFTeL+KClscclbZ0jY7/239TysnzUD5Mka+KAtZkjH7dFU+g8qP0nlHGbBPBk/svJWHu4k+ugLNoelow7JcgrGq7yF/moifzYbmKBDRIoeOfKz31McU8oU9cE/3N9W6DulQyvyD99Q5CaT7O4LtNE6W8IYIMKUM+wZbK8GwTufVrW6785wf8d2D4rSPdoeVeWdLd6UB12IM2hJbHhgA1qTsBmBPBqAQy89wmCe7WeGTyGbcUrOtoqs0L3UPyA7v0PrQH0XQG6j2Nz09go+w0NbG4mC4xmuQ/fV/xqbXexCA7WnYqL9tOAnndV92Kq6m6tzaJ77tNr/iPtX8tNa6Pup8CWkPOCqJmmYXV7NADLH/6OIJqh+Ok63Szan8Z2II4rDyp+kLXiL7C2cdo/L7/zqNbd6hzdTdNoCqa0UyT8P5++MiaNue7ZAAAAAElFTkSuQmCC)}.DMAvatar.-offline{opacity:.25}.DMAvatar-wrapper{position:relative;-ms-flex-negative:0;flex-shrink:0}.DMAvatar-statusIcon{position:absolute;bottom:0;right:0;width:17px;height:17px;background-position:center center;background-repeat:no-repeat;background-size:cover}.DMAvatar-statusIcon.-absent{background-image:url('data:image/svg+xml;utf8,')}.DMAvatar-statusIcon.-away{background-image:url('data:image/svg+xml;utf8,')}.DMAvatar-statusIcon.-offline{background-image:url('data:image/svg+xml;utf8,')}.DMAvatar-statusIcon.-online{background-image:url('data:image/svg+xml;utf8,')}.DMAvatar-userInitials{font-size:14px;font-weight:700;color:#fff}.DMButton{-webkit-appearance:none;-moz-appearance:none;appearance:none;text-decoration:none;border:none;position:relative;padding:6px 20px;text-transform:uppercase;cursor:pointer;font-size:14px;font-weight:600;border-radius:3px;line-height:1.25;-webkit-transition:color .2s,background-color .2s;transition:color .2s,background-color .2s;outline:none;-ms-flex-negative:0;flex-shrink:0;overflow:hidden;background-color:#9696a0;color:#fff}.DMButton:not(button){display:-webkit-inline-box;display:-ms-inline-flexbox;display:inline-flex;-webkit-box-pack:center;-ms-flex-pack:center;justify-content:center;-webkit-box-align:center;-ms-flex-align:center;align-items:center}.DMButton:active{-webkit-transform:translateY(1px);transform:translateY(1px)}.DMButton:hover{background-color:#ababb3}.DMButton.-async[disabled] .DMButton-content{visibility:hidden}.DMButton.-async .DMLoading{position:absolute;top:0;left:0;right:0;bottom:0;margin:auto}.DMButton.-primary{background-color:#31a6ff;color:#fff}.DMButton.-primary:hover{background-color:#007ede}.DMButton.-primary:active{background-color:#0064b0}.DMButton[disabled],.DMButton.-disabled{background-color:#f2f2f4;color:#72729d;cursor:not-allowed}.DMButton[disabled]:hover,.DMButton.-disabled:hover{background-color:#f2f2f4}.DMButton[disabled].-primary,.DMButton.-disabled.-primary{background-color:#eef7fe;color:rgba(255,255,255,.8)}.DMButton[disabled].-primary:hover,.DMButton.-disabled.-primary:hover{background-color:#eef7fe}.DMButton.-flat{background-color:transparent;color:#9696a0}.DMButton.-flat:hover{background-color:#e0e0e3}.DMButton.-flat.-primary{background-color:transparent;color:#008ffc}.DMButton.-flat.-primary.-dark{color:#64bcff}.DMButton.-flat.-primary:hover{background-color:#b2deff}.DMButton.-flat.-primary[disabled],.DMButton.-flat.-primary.-disabled{background-color:transparent;color:#4ab1ff}.DMButton.-flat.-primary[disabled]:hover,.DMButton.-flat.-primary.-disabled:hover{background-color:transparent}.DMButton.-flat[disabled],.DMButton.-flat.-disabled{background-color:transparent;color:#b6b6bc}.DMButton.-flat[disabled]:hover,.DMButton.-flat.-disabled:hover{background-color:transparent}.DMButton.-border{background-color:transparent;color:#9696a0;box-shadow:inset 0 0 0 2px #9696a0}.DMButton.-border:hover{background-color:#e0e0e3}.DMButton.-border.-primary{background-color:transparent;color:#008ffc;box-shadow:inset 0 0 0 2px #008ffc}.DMButton.-border.-primary.-dark{color:#64bcff}.DMButton.-border.-primary:hover{background-color:#b2deff}.DMButton.-border.-primary[disabled],.DMButton.-border.-primary.-disabled{background-color:transparent;color:#4ab1ff;box-shadow:inset 0 0 0 2px #4ab1ff}.DMButton.-border.-primary[disabled]:hover,.DMButton.-border.-primary.-disabled:hover{background-color:transparent}.DMButton.-border[disabled],.DMButton.-border.-disabled{background-color:transparent;color:#b6b6bc;box-shadow:inset 0 0 0 2px #b6b6bc}.DMButton.-border[disabled]:hover,.DMButton.-border.-disabled:hover{background-color:transparent}.DMButton[data-compact=data-compact],.DMButton[data-compact=''],.DMButton[data-compact=desktop]{padding-left:8px;padding-right:8px}.DMButton[data-mirror=data-mirror],.DMButton[data-mirror=''],.DMButton[data-mirror=desktop]{-webkit-transform:scaleX(-1);transform:scaleX(-1)}@media screen and (max-width:767px){.DMButton[data-tablet]{font-size:0}.DMButton[data-tablet]:after{font-size:14px;content:attr(data-tablet)}.DMButton[data-compact~=tablet]{padding-left:8px;padding-right:8px}.DMButton[data-mirror~=tablet]{-webkit-transform:scaleX(-1);transform:scaleX(-1)}}@media screen and (max-width:399px){.DMButton[data-mobile]{font-size:0}.DMButton[data-mobile]:after{font-size:14px;content:attr(data-mobile)}.DMButton[data-compact~=mobile]{padding-left:8px;padding-right:8px}.DMButton[data-mirror~=mobile]{-webkit-transform:scaleX(-1);transform:scaleX(-1)}}.DMButton+.DMButton{margin-left:5px}.DMContainer{padding-left:24px;padding-right:24px}@media screen and (max-width:767px){.DMContainer{padding-left:16px;padding-right:16px}}.DMCard{background-color:#fff;padding:16px;border-radius:5px;border:none;box-shadow:0 2px 0 0 rgba(0,0,0,.12)}.DMCard:not(:last-child){margin-bottom:16px}.DMCard.-padding{padding-left:32px;padding-right:32px}@media screen and (max-width:767px){.DMCard.-padding{padding-left:16px;padding-right:16px}}.DMCard .DMCard{box-shadow:0 0 0 1px #eaeaec inset;border-radius:4px 4px 0 0}.DMCard.-info,.DMCard.-error,.DMCard.-success{box-shadow:none;border-radius:4px;border:none;box-shadow:0 0 0 1px rgba(0,0,0,.12) inset}.DMCard .DMCard.-info,.DMCard .DMCard.-error,.DMCard .DMCard.-success{box-shadow:none}.DMCard.-smallPaddings{padding:8px 16px}.DMCard.-error,.DMCard.-success{font-size:14px;font-weight:600;color:#9696a0}.DMCard.-info{background-color:#e3f2fd}.DMCard.-error{background-color:#fadada}.DMCard.-success{background-color:#eef6e4}.DMCard.-disabled{background-color:#f4f4f5}.DMCard.-noShadow{box-shadow:none}.DMCard-separator{margin:8px 0;background-color:#cacacf;height:1px}.DMCard-footer{margin-top:8px}.DMCollapse{display:-webkit-box;display:-ms-flexbox;display:flex;-webkit-box-orient:vertical;-webkit-box-direction:normal;-ms-flex-direction:column;flex-direction:column}.DMCollapse.-titleOnBottom .DMCollapse-title{-webkit-box-ordinal-group:2;-ms-flex-order:1;order:1}.DMCollapse.-titleOnBottom .DMCollapse-content{padding-bottom:8px}.DMCollapse:not(.-titleOnBottom) .DMCollapse-content{padding-top:16px}.DMCollapse-title{-ms-flex-item-align:start;align-self:flex-start;font-weight:600}.DMCollapse-contentWrapper{overflow:hidden;-webkit-transition:height .5s;transition:height .5s}.DMCollapse-contentWrapper.-fullHeight{height:auto!important}.DMCollapse-content.-indent{padding-left:20px}.DMCollapse.-hasContent .DMCollapse-title{cursor:pointer;-webkit-user-select:none;-moz-user-select:none;-ms-user-select:none;user-select:none;position:relative;padding-left:20px}.DMCollapse.-hasContent .DMCollapse-title:after{content:'\00a0';-webkit-transition:-webkit-transform .3s;transition:-webkit-transform .3s;transition:transform .3s;transition:transform .3s,-webkit-transform .3s;position:absolute;left:0;top:0;display:inline-block;fill:#008ffc;background-image:url('data:image/svg+xml;utf8,');background-position:center center;background-repeat:no-repeat;width:14px;background-size:14px;-webkit-transform:;transform:;-webkit-transform:translateZ(0);transform:translateZ(0)}.DMCollapse.-expand:not(.-titleOnBottom) .DMCollapse-title:after{-webkit-transform:rotate(90deg);transform:rotate(90deg);-webkit-transform:translateZ(0) rotate(90deg);transform:translateZ(0) rotate(90deg)}.DMCollapse.-expand.-titleOnBottom .DMCollapse-title:after{-webkit-transform:rotate(-90deg);transform:rotate(-90deg);-webkit-transform:translateZ(0) rotate(-90deg);transform:translateZ(0) rotate(-90deg)}.DMCollapse.-info .DMCollapse-title{color:#008ffc}.DMCollapse.-info.-hasContent .DMCollapse-title:after{background-image:url('data:image/svg+xml;utf8,')}.DMCollapse.-error .DMCollapse-title{color:#b41a1a}.DMCollapse.-error.-hasContent .DMCollapse-title:after{background-image:url('data:image/svg+xml;utf8,')}.DMCollapse.-success .DMCollapse-title{color:#8bc34a}.DMCollapse.-success.-hasContent .DMCollapse-title:after{background-image:url('data:image/svg+xml;utf8,')}.DMContainer .DMCollapse.-bleed,.DMContainer .DMCollapse.-bleed .DMCollapse-contentWrapper{padding-left:24px;padding-right:24px;margin-left:-24px;margin-right:-24px}@media screen and (max-width:767px){.DMContainer .DMCollapse.-bleed,.DMContainer .DMCollapse.-bleed .DMCollapse-contentWrapper{padding-left:16px;padding-right:16px;margin-left:-16px;margin-right:-16px}}.DMContextMenu{font-size:16px;font-weight:400;text-transform:none;text-align:left;display:-webkit-box;display:-ms-flexbox;display:flex;-webkit-box-orient:vertical;-webkit-box-direction:normal;-ms-flex-direction:column;flex-direction:column;box-shadow:0 2px 2px 0 rgba(0,0,0,.24);border-radius:3px;overflow:hidden;background-color:#fff;max-width:320px}.DMContextMenu>a{padding:8px 16px;white-space:nowrap;overflow:hidden;text-overflow:ellipsis;text-decoration:none;color:#2e2e42}.DMContextMenu>a:hover{background:#e3f2fd}.DMHeader-wrapper{position:fixed;top:0;background-color:#eaeaec;z-index:10}.DMHeader{height:40px;display:-webkit-box;display:-ms-flexbox;display:flex;-webkit-box-align:stretch;-ms-flex-align:stretch;align-items:stretch;margin-left:-8px;margin-right:-8px;padding-left:8px;padding-right:8px;-webkit-transition:box-shadow .3s;transition:box-shadow .3s}.DMHeader-wrapper.-floating .DMHeader{box-shadow:0 6px 5px -3px rgba(0,0,0,.2)}.DMFooter-wrapper{position:absolute;bottom:0;background-color:#eaeaec;z-index:10}.DMFooter{display:-webkit-box;display:-ms-flexbox;display:flex;-webkit-box-align:center;-ms-flex-align:center;align-items:center;min-height:50px;background-color:#fff;border-radius:0 0 5px 5px;padding:10px 32px;box-shadow:0 2px 0 0 rgba(0,0,0,.12),0 1px 0 0 #cacacf inset;-webkit-transition:box-shadow .3s;transition:box-shadow .3s;margin-bottom:4px}@media screen and (max-width:767px){.DMFooter{padding-left:16px;padding-right:16px}}.DMFooter-wrapper.-floating{position:fixed}.DMFooter-wrapper.-floating .DMFooter{box-shadow:0 2px 0 0 rgba(0,0,0,.12),0 1px 0 0 #cacacf inset,0 -8px 6px -4px rgba(0,0,0,.12)}.DMLayout{margin-left:32px;margin-right:32px;overflow-x:hidden}@media screen and (min-width:480px) and (max-width:767px){.DMLayout{margin-left:8px;margin-right:8px}}@media screen and (max-width:479px){.DMLayout{margin-left:4px;margin-right:4px}}.DMLayout-topbarCenter,.DMLayout-topbarLeft,.DMLayout-topbarRight{display:-webkit-box;display:-ms-flexbox;display:flex;-webkit-box-align:center;-ms-flex-align:center;align-items:center}.DMLayout-topbarCenter{-webkit-box-flex:1;-ms-flex:1;flex:1;margin-left:8px;margin-right:8px}.DMLayout-topbarCenter:empty{margin-left:0;margin-right:0}.DMLayout-topbarLeft,.DMLayout-topbarRight{-ms-flex-negative:0;flex-shrink:0}.DMLayout-topbarCenter:empty+.DMLayout-topbarRight{margin-left:8px}.DMLoading{border:2px solid #008ffc;border-left-color:#eaeaec;border-top-color:#eaeaec;border-radius:50%;display:inline-block;vertical-align:middle;-webkit-animation:loading-spin 1s infinite linear;animation:loading-spin 1s infinite linear}@-webkit-keyframes loading-spin{from{-webkit-transform:rotate(0deg);transform:rotate(0deg)}to{-webkit-transform:rotate(360deg);transform:rotate(360deg)}}@keyframes loading-spin{from{-webkit-transform:rotate(0deg);transform:rotate(0deg)}to{-webkit-transform:rotate(360deg);transform:rotate(360deg)}}.DMMenu-link{display:block;color:#9696a0;text-decoration:none}.DMMenu-link:hover{color:#008ffc}.DMMenu-link.-active{color:#008ffc;pointer-events:none}.DMMenu:hover{color:#f00}.DMMenu:not(.-horizontal) .DMMenu-link{margin-bottom:10px}.DMMenu.-horizontal{display:-webkit-box;display:-ms-flexbox;display:flex;-webkit-box-align:center;-ms-flex-align:center;align-items:center}.DMMenu.-horizontal .DMMenu-link{padding:0 20px;-ms-flex-negative:0;flex-shrink:0}.DMTopBar .DMMenu,.DMLayout-topbar .DMMenu{-ms-flex-item-align:stretch;-ms-grid-row-align:stretch;align-self:stretch;-webkit-box-align:stretch;-ms-flex-align:stretch;align-items:stretch}.DMTopBar .DMMenu .DMMenu-link,.DMLayout-topbar .DMMenu .DMMenu-link{position:relative;font-size:13px;text-transform:uppercase;display:-webkit-box;display:-ms-flexbox;display:flex;-webkit-box-align:center;-ms-flex-align:center;align-items:center;line-height:1}.DMTopBar .DMMenu .DMMenu-link.-active .DMMenu-text,.DMLayout-topbar .DMMenu .DMMenu-link.-active .DMMenu-text{position:relative}.DMTopBar .DMMenu .DMMenu-link.-active .DMMenu-text:after,.DMLayout-topbar .DMMenu .DMMenu-link.-active .DMMenu-text:after{content:'';position:absolute;top:100%;left:0;height:1px;width:100%;margin-top:2px;background-color:rgba(255,255,255,.5)}.DMModal{position:fixed;top:0;right:0;bottom:0;left:0;display:-webkit-box;display:-ms-flexbox;display:flex;z-index:3000;visibility:hidden;opacity:0;-webkit-transition:visibility .3s,opacity .3s;transition:visibility .3s,opacity .3s;background-color:rgba(42,47,69,.5)}.DMModal.-open{visibility:visible;opacity:1}.DMModal-modal{position:relative;background-color:#fff;overflow:auto}@media screen and (min-width:480px){.DMModal-modal{margin:auto;max-height:95vh;max-width:776px;min-width:402px;border-radius:3px;padding:0 24px}}@media screen and (max-width:479px){.DMModal-modal{display:-webkit-box;display:-ms-flexbox;display:flex;-webkit-box-orient:vertical;-webkit-box-direction:normal;-ms-flex-direction:column;flex-direction:column;height:100%;padding:0 8px;-webkit-box-flex:1;-ms-flex:1;flex:1}}.DMModal-cross{position:absolute;top:8px;right:8px;cursor:pointer}.DMModal-info{padding:24px 0}@media screen and (max-width:479px){.DMModal-info{-webkit-box-flex:1;-ms-flex:1;flex:1}}.DMModal-title{font-weight:600;font-size:24px}.DMModal-title+.DMModal-text{padding-top:24px}.DMModal-text{font-size:16px;white-space:pre-line}.DMModal-actions{display:-webkit-box;display:-ms-flexbox;display:flex;-webkit-box-pack:center;-ms-flex-pack:center;justify-content:center;text-align:center;font-size:16px;font-weight:600;text-transform:uppercase;border-top:1px solid #eaeaec}.DMModal-actions.-loading{padding:24px 32px}.DMModal-actions .DMLoading{width:24px;height:24px}.DMModal-action{white-space:nowrap;padding:24px 32px;-webkit-box-flex:1;-ms-flex:1;flex:1;cursor:pointer}.DMModal-action.-blue{color:#008ffc}.DMModal-action.-blue:hover{color:#31a6ff}.DMModal-action.-red{color:#b41a1a}.DMModal-action.-red:hover{color:#e02a2a}.DMModal-separator{width:1px;background-color:#eaeaec;margin:8px 0}.DMMultiselect-wrapper{position:relative;max-width:100%;width:184px}.DMMultiselect-tetherWrapper{position:absolute;right:4px;top:4px}.DMMultiselect-preview{display:-webkit-box;display:-ms-flexbox;display:flex;-webkit-box-pack:justify;-ms-flex-pack:justify;justify-content:space-between;-webkit-box-align:center;-ms-flex-align:center;align-items:center;cursor:pointer;padding:8px 16px;background:#dedee2;border-radius:3px;font-weight:600}.DMMultiselect-preview .DMMultiselect-name:before{background:-webkit-linear-gradient(right,#dedee2,rgba(222,222,226,.24))!important;background:linear-gradient(to left,#dedee2,rgba(222,222,226,.24))!important}.DMMultiselect-name{white-space:nowrap;margin-right:16px}.DMMultiselect-arrow{width:0;height:0;position:relative;top:2.5px;border-left:5px solid transparent;border-right:5px solid transparent;border-top:5px solid #2e2e42}.DMMultiselect-items{max-width:392px;cursor:pointer;background:#fff;box-shadow:0 0 2px 0 rgba(0,0,0,.24);border-radius:3px;overflow:auto}.DMMultiselect-items .DMMultiselect-item{padding-left:24px;padding-right:24px}.DMMultiselect-items .DMMultiselect-item:not(.-thereAreNoResults):hover{background-color:#e3f2fd}.DMMultiselect-items .DMMultiselect-item:not(.-thereAreNoResults):hover .DMMultiselect-name:before{background:-webkit-linear-gradient(right,#e3f2fd,rgba(227,242,253,.24));background:linear-gradient(to left,#e3f2fd,rgba(227,242,253,.24))}.DMMultiselect-items .DMMultiselect-item.-thereAreNoResults{color:#ff9800}.DMMultiselect-selectedItems{cursor:pointer;width:184px;margin-top:4px}.DMMultiselect-selectedItems .DMMultiselect-item{padding-left:16px;padding-right:16px}.DMMultiselect-selectedItems .DMMultiselect-item .DMMultiselect-itemStatus{visibility:hidden}.DMMultiselect-selectedItems .DMMultiselect-item:hover .DMMultiselect-itemStatus{visibility:visible}.DMMultiselect-selectedItems .DMCollapse-content{padding-top:0}.DMMultiselect-item{padding:8px 0;display:-webkit-box;display:-ms-flexbox;display:flex;-webkit-box-pack:justify;-ms-flex-pack:justify;justify-content:space-between;-webkit-box-align:center;-ms-flex-align:center;align-items:center}.DMMultiselect-item.-thereAreNoResults{cursor:auto}.DMMultiselect-itemStatus{-ms-flex-negative:0;flex-shrink:0;width:16px;height:16px;background-size:cover}.DMMultiselect-itemStatus.-add{background-image:url('data:image/svg+xml;utf8,');-webkit-transform:rotate(45deg);transform:rotate(45deg)}.DMMultiselect-itemStatus.-remove{background-image:url('data:image/svg+xml;utf8,')}.DMMultiselect-additiontalInfo{padding:0 16px}.DMMultiselect-link{cursor:pointer;color:#008ffc}.DMPagination{display:-webkit-box;display:-ms-flexbox;display:flex;align:center;font-size:14px;font-weight:600;-webkit-user-select:none;-moz-user-select:none;-ms-user-select:none;user-select:none}.DMPagination span{cursor:pointer;margin-left:24px}.DMProgress-header{display:-webkit-box;display:-ms-flexbox;display:flex;-webkit-box-pack:justify;-ms-flex-pack:justify;justify-content:space-between;font-weight:600;margin-bottom:8px}@media screen and (min-width:480px){.DMProgress-header{font-size:14px}}@media screen and (max-width:479px){.DMProgress-header{font-size:12px}}.DMProgress-title{color:#9696a0}.DMProgress-progress{display:-webkit-box;display:-ms-flexbox;display:flex;height:6px;background-color:#eaeaec;border-radius:3px;overflow:hidden}.DMProgress-fill{background-color:#8bc34a}.DMSection{padding-top:16px;padding-bottom:16px}.DMCard.-padding .DMSection{padding-left:32px;padding-right:32px;margin-left:-32px;margin-right:-32px}@media screen and (max-width:767px){.DMCard.-padding .DMSection{padding-left:16px;padding-right:16px;margin-left:-16px;margin-right:-16px}}.DMCard.-padding .DMSection:nth-child(even){background-color:#f4f4f5}.DMCard.-padding .DMSection:nth-child(even) .U-fading:before{background:-webkit-linear-gradient(right,#f4f4f5,rgba(244,244,245,0));background:linear-gradient(to left,#f4f4f5,rgba(244,244,245,0))}.DMCard:not(.-padding) .DMSection{padding-left:16px;padding-right:16px;margin-left:-16px;margin-right:-16px}.DMCard:not(.-padding) .DMSection:nth-child(even){background-color:transparent}.U-zebra.U-zebra>.DMSection:nth-child(even){background-color:#f4f4f5}.U-zebra.U-zebra>.DMSection:nth-child(even) .U-fading:before{background:-webkit-linear-gradient(right,#f4f4f5,rgba(244,244,245,0));background:linear-gradient(to left,#f4f4f5,rgba(244,244,245,0))}.DMContainer:not(.-noZebra) .DMSection{padding-left:24px;padding-right:24px;margin-left:-24px;margin-right:-24px}@media screen and (max-width:767px){.DMContainer:not(.-noZebra) .DMSection{padding-left:16px;padding-right:16px;margin-left:-16px;margin-right:-16px}}.DMContainer:not(.-noZebra) .DMSection:nth-child(even){background-color:#f4f4f5}.DMContainer:not(.-noZebra) .DMSection:nth-child(even) .U-fading:before{background:-webkit-linear-gradient(right,#f4f4f5,rgba(244,244,245,0));background:linear-gradient(to left,#f4f4f5,rgba(244,244,245,0))}.DMSidebar{position:fixed;top:0;bottom:0;width:250px;-webkit-transition:-webkit-transform .3s;transition:-webkit-transform .3s;transition:transform .3s;transition:transform .3s,-webkit-transform .3s;z-index:20;overflow:auto;background-color:#f4f4f5;padding:0}.DMSidebar.-padding{padding:16px}.DMSidebar.-left{left:0}.DMSidebar.-left:not(.-show){-webkit-transform:translateX(-100%);transform:translateX(-100%)}.DMSidebar.-right{right:0}.DMSidebar.-right:not(.-show){-webkit-transform:translateX(100%);transform:translateX(100%)}.DMSidebar-transitionPadding{-webkit-transition:padding .3s;transition:padding .3s}@media screen and (min-width:768px){.DMSidebar-paddingLeft{padding-left:250px}.DMSidebar-paddingRight{padding-right:250px}}.DMSlider{position:relative;overflow:hidden}.DMSlider-wrapper{display:-webkit-box;display:-ms-flexbox;display:flex}.DMSlider-slide{-ms-flex-negative:0;flex-shrink:0}.DMSlider-slide.-checked{z-index:1}.DMSlider-controls{position:absolute;right:20px;bottom:10px;display:-webkit-box;display:-ms-flexbox;display:flex}.DMSlider-control{width:20px;height:20px;border:1px solid #008ffc;border-radius:50%;margin-right:8px;cursor:pointer;-webkit-transition:background-color,.7s;transition:background-color,.7s;z-index:2}.DMSlider-control.-checked{background-color:#8bc34a}.DMSlider-control:last-child{margin-right:0}.DMTabs{display:-webkit-box;display:-ms-flexbox;display:flex;position:relative;overflow:hidden}.DMTabs:not(.-menu){-webkit-box-orient:vertical;-webkit-box-direction:normal;-ms-flex-direction:column;flex-direction:column;-webkit-box-flex:1;-ms-flex:1;flex:1}.DMTabs.-menu{-ms-flex-negative:0;flex-shrink:0}.DMTabs.-menu .DMTabs-tab.-active{border-bottom:2px solid #2e2e42}.DMTabs-headerWrapper{display:-webkit-box;display:-ms-flexbox;display:flex;-webkit-box-orient:vertical;-webkit-box-direction:normal;-ms-flex-direction:column;flex-direction:column;position:relative;-ms-flex-negative:0;flex-shrink:0}.DMTabs-header{display:-webkit-box;display:-ms-flexbox;display:flex}.DMTabs-tab{color:#2e2e42;font-size:16px;font-weight:600;margin-right:48px;padding:8px 0 10px;text-transform:uppercase;text-decoration:none;cursor:pointer}.DMTabs-tab:last-child{margin-right:0}.DMTabs-tab:hover{color:#008ffc}.DMTabs-underline{width:0;position:absolute;bottom:0;height:2px;-webkit-transition:width .3s,left .3s;transition:width .3s,left .3s;background-color:#2e2e42}.DMTabs-swiperContainer{display:-webkit-box;display:-ms-flexbox;display:flex;-webkit-box-flex:1;-ms-flex:1;flex:1}.DMTabs-wrapper{display:-webkit-box;display:-ms-flexbox;display:flex}.DMTabs-contentWrapper{-webkit-box-flex:1;-ms-flex:1;flex:1;background-color:#fff;overflow:auto}.DMTabs-contentWrapper.-swipe{-ms-flex-negative:0;flex-shrink:0}.DMTabs-contentWrapper:not(.-swipe){display:none}.DMTabs-contentWrapper.-swipe,.DMTabs-contentWrapper.-checked{display:-webkit-box;display:-ms-flexbox;display:flex}.DMTabs-content{-webkit-box-flex:1;-ms-flex:1;flex:1}.DMToast{display:-webkit-box;display:-ms-flexbox;display:flex;position:fixed;overflow:hidden;z-index:5000;right:-100%}.DMToast:not(.-alert){cursor:pointer}@media screen and (min-width:480px){.DMToast{height:60px;width:350px;max-width:100%;background-color:#fff;border:1px solid rgba(0,0,0,.1);box-shadow:0 5px 8px 0 rgba(0,0,0,.4);border-radius:6px;-webkit-animation:showDesktop 1s forwards;animation:showDesktop 1s forwards;-webkit-transition:top .5s;transition:top .5s}}@media screen and (max-width:479px){.DMToast{height:40px;width:100%;background-color:rgba(0,0,0,.75);-webkit-animation:showMobile 1s .5s forwards;animation:showMobile 1s .5s forwards;-webkit-transition:bottom .5s;transition:bottom .5s}}@media screen and (min-width:480px){.DMToast.-item-0{top:80px}}@media screen and (max-width:479px){.DMToast.-item-0{bottom:0}}@media screen and (min-width:480px){.DMToast.-item-1{top:160px}}@media screen and (max-width:479px){.DMToast.-item-1{bottom:40px}}@media screen and (min-width:480px){.DMToast.-item-2{top:240px}}@media screen and (max-width:479px){.DMToast.-item-2{bottom:80px}}.DMToast.-error .DMToast-message:before,.DMToast.-success .DMToast-message:before{font-size:20px;text-align:center;display:inline-block}@media screen and (min-width:480px){.DMToast.-error .DMToast-message:before,.DMToast.-success .DMToast-message:before{width:24px;line-height:17.5px;position:absolute;left:0;top:0}}@media screen and (max-width:479px){.DMToast.-error .DMToast-message:before,.DMToast.-success .DMToast-message:before{line-height:0;position:relative;top:2px;margin-right:8px}}@media screen and (min-width:480px){.DMToast.-info{background-color:#e3f2fd}}@media screen and (min-width:480px){.DMToast.-error{background-color:#fadada}}.DMToast.-error .DMToast-message:before{content:'✘'}@media screen and (min-width:480px){.DMToast.-error .DMToast-message:before{color:#b41a1a}}@media screen and (max-width:479px){.DMToast.-error .DMToast-message:before{color:#e86060}}@media screen and (min-width:480px){.DMToast.-success{background-color:#eef6e4}}.DMToast.-success .DMToast-message:before{content:'✓';font-weight:700;color:#8bc34a}.DMToast.-hide{-webkit-transition:opacity 1s;transition:opacity 1s;opacity:0}.DMToast-messageWrapper{-webkit-box-flex:1;-ms-flex:1;flex:1;font-size:16px;display:-webkit-box;display:-ms-flexbox;display:flex;-webkit-box-orient:vertical;-webkit-box-direction:normal;-ms-flex-direction:column;flex-direction:column;-webkit-box-pack:center;-ms-flex-pack:center;justify-content:center;-webkit-box-align:start;-ms-flex-align:start;align-items:flex-start}@media screen and (min-width:480px){.DMToast-messageWrapper{overflow:auto}}@media screen and (max-width:479px){.DMToast-messageWrapper{overflow:hidden}}.DMToast-message{position:relative}.DMToast-message a{color:#008ffc}@media screen and (min-width:480px){.DMToast-message{padding:0 24px;font-size:14px;line-height:1.25}}@media screen and (max-width:479px){.DMToast-message{font-size:14px;line-height:1.25;padding:0 8px;color:#fff;overflow:hidden}}.DMToast-actions{display:-webkit-box;display:-ms-flexbox;display:flex}@media screen and (min-width:480px){.DMToast-actions{-ms-flex-negative:0;flex-shrink:0;-webkit-box-orient:vertical;-webkit-box-direction:normal;-ms-flex-direction:column;flex-direction:column;text-align:center;z-index:1}}.DMToast-action{display:-webkit-box;display:-ms-flexbox;display:flex;-webkit-box-align:center;-ms-flex-align:center;align-items:center;font-size:14px;font-weight:600;padding-top:0;padding-bottom:0;-webkit-box-pack:center;-ms-flex-pack:center;justify-content:center;cursor:pointer}@media screen and (min-width:480px){.DMToast-action{color:#008ffc;-webkit-box-flex:1;-ms-flex:1;flex:1;padding-left:8px;padding-right:8px;min-width:60px}.DMToast-action:hover{background-color:rgba(0,143,252,.1)}.DMToast-action.-close{color:#2e2e42;-webkit-box-pack:end;-ms-flex-pack:end;justify-content:flex-end;-webkit-box-ordinal-group:0;-ms-flex-order:-1;order:-1}.DMToast-action.-close:hover{background-color:rgba(0,0,0,.05)}}@media screen and (max-width:479px){.DMToast-action{color:#7ec7ff;padding-left:4px;padding-right:4px;min-width:50px}.DMToast-action.-close{color:#fff}}@-webkit-keyframes showDesktop{from{right:-100%}to{right:50px}}@keyframes showDesktop{from{right:-100%}to{right:50px}}@-webkit-keyframes showMobile{from{right:-100%}to{right:0}}@keyframes showMobile{from{right:-100%}to{right:0}}.DMTooltip{position:relative;cursor:pointer}.DMTooltip:not(.-instant):before,.DMTooltip:not(.-instant):after{-webkit-animation:showTooltip .5s forwards;animation:showTooltip .5s forwards}.DMTooltip.-static:before,.DMTooltip:not(.-static):hover:before,.DMTooltip-parent:hover .DMTooltip.-controlledByParent:before,.DMTooltip.-static:after,.DMTooltip:not(.-static):hover:after,.DMTooltip-parent:hover .DMTooltip.-controlledByParent:after{z-index:50}.DMTooltip.-static:before,.DMTooltip:not(.-static):hover:before,.DMTooltip-parent:hover .DMTooltip.-controlledByParent:before{content:'';position:absolute;border:8px solid transparent}.DMTooltip.-static:after,.DMTooltip:not(.-static):hover:after,.DMTooltip-parent:hover .DMTooltip.-controlledByParent:after{position:absolute;content:attr(data-tooltip);white-space:pre;max-width:260px;font-size:14px;font-weight:600;padding:8px 16px;border-radius:3px;background:#2e2e42;line-height:1.5;color:#fff;overflow:hidden;text-overflow:ellipsis;text-align:left;text-transform:none}@media screen and (max-width:479px){.DMTooltip.-static:after,.DMTooltip:not(.-static):hover:after,.DMTooltip-parent:hover .DMTooltip.-controlledByParent:after{font-size:12px}}.DMTooltip.-static.-uppercase:after,.DMTooltip:not(.-static):hover.-uppercase:after,.DMTooltip-parent:hover .DMTooltip.-controlledByParent.-uppercase:after{text-transform:uppercase}.DMTooltip.-static.-registerNone:after,.DMTooltip:not(.-static):hover.-registerNone:after,.DMTooltip-parent:hover .DMTooltip.-controlledByParent.-registerNone:after{text-transform:none}.DMTooltip.-static.-top:before,.DMTooltip:not(.-static):hover.-top:before,.DMTooltip-parent:hover .DMTooltip.-controlledByParent.-top:before{border-top:8px solid #2e2e42;top:-10px}.DMTooltip.-static.-top:after,.DMTooltip:not(.-static):hover.-top:after,.DMTooltip-parent:hover .DMTooltip.-controlledByParent.-top:after{bottom:calc(100% + 10px)}.DMTooltip.-static.-top:before,.DMTooltip:not(.-static):hover.-top:before,.DMTooltip-parent:hover .DMTooltip.-controlledByParent.-top:before,.DMTooltip.-static.-top:after,.DMTooltip:not(.-static):hover.-top:after,.DMTooltip-parent:hover .DMTooltip.-controlledByParent.-top:after{left:50%;-webkit-transform:translateX(-50%);transform:translateX(-50%)}.DMTooltip.-static.-right:before,.DMTooltip:not(.-static):hover.-right:before,.DMTooltip-parent:hover .DMTooltip.-controlledByParent.-right:before{border-right:8px solid #2e2e42;right:-10px}.DMTooltip.-static.-right:after,.DMTooltip:not(.-static):hover.-right:after,.DMTooltip-parent:hover .DMTooltip.-controlledByParent.-right:after{left:calc(100% + 10px)}.DMTooltip.-static.-right:before,.DMTooltip:not(.-static):hover.-right:before,.DMTooltip-parent:hover .DMTooltip.-controlledByParent.-right:before,.DMTooltip.-static.-right:after,.DMTooltip:not(.-static):hover.-right:after,.DMTooltip-parent:hover .DMTooltip.-controlledByParent.-right:after{top:50%;-webkit-transform:translateY(-50%);transform:translateY(-50%)}.DMTooltip.-static.-bottom:before,.DMTooltip:not(.-static):hover.-bottom:before,.DMTooltip-parent:hover .DMTooltip.-controlledByParent.-bottom:before{border-bottom:8px solid #2e2e42;bottom:-10px}.DMTooltip.-static.-bottom:after,.DMTooltip:not(.-static):hover.-bottom:after,.DMTooltip-parent:hover .DMTooltip.-controlledByParent.-bottom:after{top:calc(100% + 10px)}.DMTooltip.-static.-bottom:before,.DMTooltip:not(.-static):hover.-bottom:before,.DMTooltip-parent:hover .DMTooltip.-controlledByParent.-bottom:before,.DMTooltip.-static.-bottom:after,.DMTooltip:not(.-static):hover.-bottom:after,.DMTooltip-parent:hover .DMTooltip.-controlledByParent.-bottom:after{left:50%;-webkit-transform:translateX(-50%);transform:translateX(-50%)}.DMTooltip.-static.-left:before,.DMTooltip:not(.-static):hover.-left:before,.DMTooltip-parent:hover .DMTooltip.-controlledByParent.-left:before{border-left:8px solid #2e2e42;left:-10px}.DMTooltip.-static.-left:after,.DMTooltip:not(.-static):hover.-left:after,.DMTooltip-parent:hover .DMTooltip.-controlledByParent.-left:after{right:calc(100% + 10px)}.DMTooltip.-static.-left:before,.DMTooltip:not(.-static):hover.-left:before,.DMTooltip-parent:hover .DMTooltip.-controlledByParent.-left:before,.DMTooltip.-static.-left:after,.DMTooltip:not(.-static):hover.-left:after,.DMTooltip-parent:hover .DMTooltip.-controlledByParent.-left:after{top:50%;-webkit-transform:translateY(-50%);transform:translateY(-50%)}.DMTooltipJs{max-width:320px}.DMTooltipJs-disabledBG{display:none}.DMTooltipJs:not([class~=tether-pinned]).-top{top:10px!important}.DMTooltipJs:not([class~=tether-pinned]).-top:before{content:'';position:absolute;border:8px solid transparent;border-bottom:8px solid #2e2e42;bottom:100%;left:50%;-webkit-transform:translateX(-50%);transform:translateX(-50%)}.DMTooltipJs:not([class~=tether-pinned]).-topLeft{top:10px!important}.DMTooltipJs:not([class~=tether-pinned]).-topLeft:before{content:'';position:absolute;border:8px solid transparent;border-bottom:8px solid #2e2e42;bottom:100%;left:10px}.DMTooltipJs:not([class~=tether-pinned]).-topRight{top:10px!important}.DMTooltipJs:not([class~=tether-pinned]).-topRight:before{content:'';position:absolute;border:8px solid transparent;border-bottom:8px solid #2e2e42;bottom:100%;right:10px}.DMTooltipJs:not([class~=tether-pinned]).-right{left:-10px!important}.DMTooltipJs:not([class~=tether-pinned]).-right:before{content:'';position:absolute;border:8px solid transparent;border-left:8px solid #2e2e42;left:100%;top:50%;-webkit-transform:translateY(-50%);transform:translateY(-50%)}.DMTooltipJs:not([class~=tether-pinned]).-rightTop{left:-10px!important}.DMTooltipJs:not([class~=tether-pinned]).-rightTop:before{content:'';position:absolute;border:8px solid transparent;border-left:8px solid #2e2e42;left:100%;top:10px}.DMTooltipJs:not([class~=tether-pinned]).-rightBottom{left:-10px!important}.DMTooltipJs:not([class~=tether-pinned]).-rightBottom:before{content:'';position:absolute;border:8px solid transparent;border-left:8px solid #2e2e42;left:100%;bottom:10px}.DMTooltipJs:not([class~=tether-pinned]).-bottom{top:-10px!important}.DMTooltipJs:not([class~=tether-pinned]).-bottom:before{content:'';position:absolute;border:8px solid transparent;border-top:8px solid #2e2e42;top:100%;left:50%;-webkit-transform:translateX(-50%);transform:translateX(-50%)}.DMTooltipJs:not([class~=tether-pinned]).-bottomLeft{left:-10px!important}.DMTooltipJs:not([class~=tether-pinned]).-bottomLeft:before{content:'';position:absolute;border:8px solid transparent;border-top:8px solid #2e2e42;top:100%;left:10px}.DMTooltipJs:not([class~=tether-pinned]).-bottomRight{left:-10px!important}.DMTooltipJs:not([class~=tether-pinned]).-bottomRight:before{content:'';position:absolute;border:8px solid transparent;border-top:8px solid #2e2e42;top:100%;right:10px}.DMTooltipJs:not([class~=tether-pinned]).-left{left:10px!important}.DMTooltipJs:not([class~=tether-pinned]).-left:before{content:'';position:absolute;border:8px solid transparent;border-right:8px solid #2e2e42;right:100%;top:50%;-webkit-transform:translateY(-50%);transform:translateY(-50%)}.DMTooltipJs:not([class~=tether-pinned]).-leftTop{left:-10px!important}.DMTooltipJs:not([class~=tether-pinned]).-leftTop:before{content:'';position:absolute;border:8px solid transparent;border-right:8px solid #2e2e42;right:100%;top:10px}.DMTooltipJs:not([class~=tether-pinned]).-leftBottom{left:-10px!important}.DMTooltipJs:not([class~=tether-pinned]).-leftBottom:before{content:'';position:absolute;border:8px solid transparent;border-right:8px solid #2e2e42;right:100%;bottom:10px}.DMTooltip-content{font-size:14px;font-weight:600;padding:8px 16px;border-radius:3px;background:#2e2e42;line-height:1.5;color:#fff;overflow:hidden;text-overflow:ellipsis;text-align:left;text-transform:none}@media screen and (max-width:479px){.DMTooltip-content{font-size:12px}}@-webkit-keyframes showTooltip{from{opacity:0}to{opacity:1}}@keyframes showTooltip{from{opacity:0}to{opacity:1}}.DMTopBar{display:-webkit-box;display:-ms-flexbox;display:flex;background-color:#008ffc;color:#fff;height:40px;-ms-flex-negative:0;flex-shrink:0;padding:0 10px}.DMTopBar-left,.DMTopBar-right{-ms-flex-negative:0;flex-shrink:0;display:-webkit-box;display:-ms-flexbox;display:flex;-webkit-box-align:center;-ms-flex-align:center;align-items:center}.DMTopBar-center{-webkit-box-flex:1;-ms-flex:1;flex:1;display:-webkit-box;display:-ms-flexbox;display:flex;-webkit-box-pack:center;-ms-flex-pack:center;justify-content:center;-webkit-box-align:center;-ms-flex-align:center;align-items:center}.DMTopBar-left>*+*,.DMTopBar-right>*+*,.DMTopBar-center>*+*{margin-left:10px}.DMUserCard{display:-webkit-box;display:-ms-flexbox;display:flex;-webkit-box-align:center;-ms-flex-align:center;align-items:center;position:relative}.DMUserCard.-column{-webkit-box-orient:vertical;-webkit-box-direction:normal;-ms-flex-direction:column;flex-direction:column}.DMUserCard:not(.-column) .DMAvatar-wrapper{margin-right:16px}.DMUserCard-content{display:-webkit-box;display:-ms-flexbox;display:flex;-webkit-box-align:center;-ms-flex-align:center;align-items:center}.DMUserCard-name{white-space:nowrap;color:#2e2e42}.DMUserCard-name.-offline{color:#9696a0}.DMUserCard-name.-absent{text-decoration:line-through}.DMVerticalTabs-tab{height:56px;padding:16px;display:-webkit-box;display:-ms-flexbox;display:flex;-webkit-box-align:center;-ms-flex-align:center;align-items:center;position:relative;font-weight:600;background-color:#f4f4f5;border-bottom:1px solid #e0e0e0;color:#2e2e42;text-decoration:none}.DMVerticalTabs-tab:not(.-active):hover{cursor:pointer;background-color:#fff}.DMVerticalTabs-tab:not(.-active):hover .DMVerticalTabs-name{color:#008ffc}.DMVerticalTabs-tab.-customFirstTab{height:75px;padding:24px 16px;font-size:20px}.DMVerticalTabs-tab.-active{background-color:#fff;box-shadow:0 2px 0 rgba(0,0,0,.12),4px 0 0 0 #008ffc inset;z-index:5}.DMVerticalTabs-index{padding-right:16px}.DMVerticalTabs-name{margin-left:32px;-webkit-box-flex:1;-ms-flex:1;flex:1;color:#2e2e42}.DMVerticalTabs-menuIcon{width:18px;height:18px;display:none;cursor:pointer;-webkit-user-select:none;-moz-user-select:none;-ms-user-select:none;user-select:none;background-image:url('data:image/svg+xml;utf8,');background-position:center center;background-repeat:no-repeat}.DMVerticalTabs-menuIcon.-show{display:block}.DMVerticalTabs-menu{padding:4px 16px;position:absolute;top:35%;right:10px;border-radius:3px;background-color:#fff;box-shadow:0 2px 2px rgba(0,0,0,.12);text-align:left;display:none}.DMVerticalTabs-menu.-show{display:block}.DMVerticalTabs-dragContent>.DMVerticalTabs-tab:hover .DMVerticalTabs-index,.DMVerticalTabs-dragContent>.DMVerticalTabs-tab.-active .DMVerticalTabs-index{visibility:hidden}.DMVerticalTabs-dragContent>.DMVerticalTabs-tab:hover:after,.DMVerticalTabs-dragContent>.DMVerticalTabs-tab.-active:after{width:25px;height:100%;position:absolute;left:12px;top:0;content:'';cursor:move;background-image:url('data:image/svg+xml;utf8,');background-position:center center;background-repeat:no-repeat}.DMVerticalTabs-dragContent>.DMVerticalTabs-tab.-moved{background-color:#fff;color:#008ffc;font-size:16px;z-index:10;position:relative;opacity:.7}.DMVerticalTabs-dragContent>.DMVerticalTabs-tab.-moved .DMVerticalTabs-name{color:#008ffc}.DMVerticalTabs-dragContent>.DMVerticalTabs-tab.-focused:after{content:'';top:0;left:12px;background:#008ffc;height:2px;position:absolute;width:100%}.DMVerticalTabs-dragContent>.DMVerticalTabs-tab.-last:after{top:auto;bottom:0}.anim-overlay{display:-webkit-box;display:-ms-flexbox;display:flex;-webkit-box-pack:center;-ms-flex-pack:center;justify-content:center;-webkit-box-align:center;-ms-flex-align:center;align-items:center;position:fixed;top:0;left:0;width:100vw;height:100vh;z-index:100000;background:rgba(128,128,128,.75);-webkit-transition:.2s linear;transition:.2s linear}.anim-overlay.-hidden{pointer-events:none;visibility:hidden;opacity:0}.TEST .anim-overlay{pointer-events:none}.anim{display:-webkit-box;display:-ms-flexbox;display:flex;-webkit-box-orient:vertical;-webkit-box-direction:normal;-ms-flex-direction:column;flex-direction:column;-ms-flex-pack:distribute;justify-content:space-around;-webkit-box-align:center;-ms-flex-align:center;align-items:center;background:#fff;color:#2b4488;padding:10px;letter-spacing:.1em;box-shadow:0 2px 4px 1px rgba(0,0,0,.25);border-radius:4px;width:225px;height:105px}.anim-points{display:-webkit-box;display:-ms-flexbox;display:flex;-webkit-box-pack:justify;-ms-flex-pack:justify;justify-content:space-between;-webkit-box-align:center;-ms-flex-align:center;align-items:center;padding:0 0 10px;width:90px}.anim-points :nth-child(1){-webkit-animation-delay:0s;animation-delay:0s}.anim-points :nth-child(2){-webkit-animation-delay:.2s;animation-delay:.2s}.anim-points :nth-child(3){-webkit-animation-delay:.4s;animation-delay:.4s}.anim-points :nth-child(4){-webkit-animation-delay:.6s;animation-delay:.6s}.anim-point{width:16px;height:16px;border-radius:100%;-webkit-animation:circles 1.4s linear infinite;animation:circles 1.4s linear infinite}@-webkit-keyframes circles{50%{background:#2b4488}}@keyframes circles{50%{background:#2b4488}}.login{font-family:Source Sans Pro,Lato,sans-serif;background:#fff;text-align:center;width:100vw;max-width:350px;font-size:16px}@media only screen and (min-width:320px) and (max-width:675px){.login{max-width:100%}}.login-header{font-size:18px;font-weight:600;color:#444}.login-header .auth-text{font-weight:600;color:#777;font-size:14px;padding:8px 0 30px}.login-icon{display:none;width:100%}@media(max-width:480px){.login-icon{display:block}}.login-tooltip{position:relative;padding:12px 0 15px}.login-tooltip.-inputFirst{margin:22px 0 0}.login-tooltip:not(.-showTitle) .auth-text.-login{display:none}.login-email,.login-password,.login-register{font-family:Source Sans Pro,Lato,sans-serif;width:100%;outline:none;padding:8px;font-size:16px;color:#444;font-weight:600;border:2px solid #a4a4a4;border-radius:3px}.login-email:focus,.login-password:focus,.login-register:focus{border-color:#4285f4}.login-email::-webkit-input-placeholder,.login-password::-webkit-input-placeholder,.login-register::-webkit-input-placeholder{color:#979797;font-weight:400}.login-email:-moz-placeholder,.login-password:-moz-placeholder,.login-register:-moz-placeholder{color:#979797;font-weight:400}.login-email:-ms-input-placeholder,.login-password:-ms-input-placeholder,.login-register:-ms-input-placeholder{color:#979797;font-weight:400}.login-email.-comment,.login-password.-comment,.login-register.-comment{resize:none;height:125px}.login-forgot{text-align:right;margin:-7px 0 12px;position:relative;height:40px}.login-forgotLink{position:absolute;padding:10px;right:-10px;color:#4285f4;font-size:16px;font-weight:600;text-decoration:none}.login-forgotLink:active{background:rgba(252,99,33,.1)}.login-btn{height:40px;width:100%;font-size:16px;border:none;color:#fff;font-weight:600;border-radius:3px;background:#fc6321;text-transform:uppercase;cursor:pointer;font-family:Source Sans Pro,Lato,sans-serif}.login-btn.-reset{background:#4688f1;margin-bottom:0}.login-btn.-register{margin-top:6px;font-size:18px}.login-btn.-confirm{font-size:18px;max-width:220px;margin:8px 0 22px}.login-btn img{width:25px;margin-left:10px}.login-footer{margin-top:18px}.login-footer a{padding:10px;color:#979797;text-decoration:none}.login-footer a:active{background:rgba(252,99,33,.1)}.login-linkedin{padding-left:4px;color:#4285f4;font-weight:700}@media(max-width:480px){.login-header,.login-footer{display:none}}.login-check{position:absolute;width:25px;height:25px;margin:5px 0 0 -35px;opacity:0;visibility:hidden;-webkit-transition:.3s linear;transition:.3s linear}.login-check.show{opacity:1;visibility:visible}.register{text-align:center}@media only screen and (min-width:320px) and (max-width:675px){.register{font-size:16px;width:100%}}@media(max-width:320px){.register{font-size:15px}}.UniResetPassword{background-size:cover;background-position:center center;min-height:100vh;text-align:center}.UniResetPassword-gradient{background-image:-webkit-linear-gradient(45deg,rgba(0,178,238,.8),rgba(59,73,144,.8));background-image:linear-gradient(45deg,rgba(0,178,238,.8),rgba(59,73,144,.8));padding:0 0 25px;min-height:100vh}.UniResetPassword-logo{width:270px;margin-top:30px}.UniResetPassword-form{margin:70px auto 0;width:100vw;max-width:340px;padding:27px 38px;background:#fff;border-radius:3px;box-shadow:0 2px 4px rgba(0,0,0,.35)}.UniResetPassword-form.-success{display:none}.UniResetPassword.-success .UniResetPassword-form{display:none}.UniResetPassword.-success .UniResetPassword-form.-success{display:block}.UniResetPassword-header{font-family:Source Sans Pro,Lato,sans-serif;color:#444;font-weight:600;font-size:18px}.UniResetPassword-header.-indent{margin-bottom:35px}.UniResetPassword-text{font-size:16px;font-weight:400;color:#777;margin:10px 0 30px}.UniResetPassword-input{border:1px solid #979797;border-radius:3px;width:100%;color:#444;padding:9px 15px;font-size:18px;outline:none;margin-bottom:30px}.UniResetPassword-input:focus{border:2px solid #4285f4;padding:8px 14px}.UniResetPassword-input.-smallIndent{margin-bottom:20px}.UniResetPassword-input.-hidden{display:none}.UniResetPassword-btn{font-family:Source Sans Pro,Lato,sans-serif;color:#fff;font-size:16px;font-weight:600;height:40px;background:#ff6200;border:none;width:100%;border-radius:3px;cursor:pointer;margin-bottom:55px}.UniResetPassword-btn.-smallIndent{margin-bottom:25px}.UniResetPassword-link{font-size:14px;font-weight:600;color:#4285f4;text-decoration:none}.UniResetPassword-icon{height:100px;width:100px;margin-bottom:35px}.auth{background:#fff;margin-top:70px;min-width:270px;max-width:300px;box-shadow:1px 2px 2px 3px rgba(0,0,0,.1)}@media only screen and (min-width:320px) and (max-width:675px){.auth{max-width:300px;margin:30px auto;position:relative;z-index:1}}.authIcon{width:100%;display:none}@media only screen and (min-width:320px) and (max-width:675px){.authIcon{display:block}}.auth-header .tabs{border-bottom:1px solid #bababa}.auth-header .tabs a,.auth-header .tabs li{text-align:center;box-sizing:border-box;font-size:14px;width:50%;display:inline-block;text-decoration:none;color:#c6c6c6;text-transform:uppercase;font-weight:700;padding:15px 0}@media only screen and (min-width:320px) and (max-width:675px){.auth-header .tabs a,.auth-header .tabs li{padding:10px 0}}.auth-header .tabs a.-active,.auth-header .tabs li.-active{color:#4c8cf1}.auth-content{padding:25px}@media only screen and (min-width:320px) and (max-width:675px){.auth-content{padding:15px}}.auth input{-webkit-appearance:none}.auth-login,.auth-email,.auth-password{padding:10px;color:#000;font-size:16px;width:100%;margin-bottom:10px;border:1px solid #aeaeae;border-radius:2px;box-shadow:none}.auth-login:focus,.auth-email:focus,.auth-password:focus{border:1px solid #6fa3f4}@media only screen and (min-width:320px) and (max-width:675px){.auth-login,.auth-email,.auth-password{padding:5px;font-size:14px}}.auth ::-webkit-input-placeholder{color:#ddd}.auth-name{display:-webkit-box;display:-ms-flexbox;display:flex}.auth-firstName,.auth-lastName{margin-bottom:13px;border:1px solid #aeaeae;border-radius:2px;padding:10px;color:#000;font-size:15px;-webkit-box-flex:1;-ms-flex:1;flex:1;min-width:1px}.auth-firstName:focus,.auth-lastName:focus{border:1px solid #6fa3f4}.auth-firstName:first-child,.auth-lastName:first-child{margin-right:10px}@media only screen and (min-width:320px) and (max-width:675px){.auth-firstName,.auth-lastName{padding:5px;font-size:13px}}.auth-register,.auth-requestAccess,.auth.-transparent .auth-enter{width:100%;font-size:15px;padding:11px 0;border:none;border-radius:3px}@media only screen and (min-width:320px) and (max-width:675px){.auth-register,.auth-requestAccess,.auth.-transparent .auth-enter{padding:7px}}.auth-register,.auth.-transparent .auth-enter{background:#fc6320;color:#ffe0d1;text-align:center;text-decoration:none}.auth-register[disabled],.auth.-transparent .auth-enter[disabled]{opacity:.4;cursor:not-allowed}.auth-requestAccess{background:#4688f1;color:#f0f5fd}.auth-text,.auth-remember,.auth-forgotPassword,.auth-forgotPasswordWrapper{position:relative;text-align:center;padding:12px 0;color:#a6a6a6;font-weight:700;font-size:14px}.auth-text.-login,.auth-remember.-login,.auth-forgotPassword.-login,.auth-forgotPasswordWrapper.-login{padding:0;text-align:left;padding:0 0 0 2px;position:absolute;left:0;top:-7px}@media(max-width:480px){.auth-text.-login,.auth-remember.-login,.auth-forgotPassword.-login,.auth-forgotPasswordWrapper.-login{color:#fff}}.auth-text.-student,.auth-remember.-student,.auth-forgotPassword.-student,.auth-forgotPasswordWrapper.-student{margin:5px 0 0;padding:0;font-weight:400;font-size:16px}.auth-text p:before,.auth-remember p:before,.auth-forgotPassword p:before,.auth-forgotPasswordWrapper p:before{content:"";position:absolute;left:0;top:50%;width:35px;margin:1.5px 0 0;border-bottom:1px solid #a6a6a6}@media(max-width:480px){.auth-text p:before,.auth-remember p:before,.auth-forgotPassword p:before,.auth-forgotPasswordWrapper p:before{border-color:#fff}}.auth-text p:after,.auth-remember p:after,.auth-forgotPassword p:after,.auth-forgotPasswordWrapper p:after{content:"";position:absolute;right:0;top:50%;width:35px;margin:1.5px 0 0;border-bottom:1px solid #a6a6a6}@media(max-width:480px){.auth-text p:after,.auth-remember p:after,.auth-forgotPassword p:after,.auth-forgotPasswordWrapper p:after{border-color:#fff}}@media only screen and (min-width:320px) and (max-width:675px){.auth-text,.auth-remember,.auth-forgotPassword,.auth-forgotPasswordWrapper{padding:7px 0}}.auth-remember{padding:7.5px 0;display:-webkit-box;display:-ms-flexbox;display:flex}.auth-rememberIcon{width:20px;height:20px;margin-right:10px}.auth-forgotPassword{text-decoration:none;color:#4688f1;display:inline-block;margin:5px 0 0;padding:0;text-align:center;font-size:13px}@media(max-width:480px){.auth-forgotPassword{color:#fff;text-decoration:underline}}@media only screen and (min-width:320px) and (max-width:675px){.auth-forgotPassword{color:#fff;text-decoration:underline}}.auth-forgotPassword:hover{text-decoration:none}.auth-forgotPasswordWrapper{text-align:center;padding:20px 0 0}@media(max-width:480px){.auth-forgotPasswordWrapper{padding:0}}.auth-forgotPasswordWrapper.-register{padding:12px 0 0}@media only screen and (min-width:320px) and (max-width:675px){.auth-forgotPasswordWrapper.-register{color:#fff}}.auth.-transparent{background:none;box-shadow:none;margin-top:10px}@media only screen and (min-width:320px) and (max-width:675px){.auth.-transparent{margin-top:50px;margin-bottom:0}}.auth.-transparent .auth-enter{display:block;box-shadow:1px 2px 2px 1px rgba(0,0,0,.1);text-align:center;margin:0;text-decoration:none}.auth.-transparent .auth-enter:hover{background:#e75900}.auth.-transparent .auth-logoutWrapper{text-align:center}.auth.-transparent .auth-logout{color:#fff;text-decoration:underline;padding:0;display:inline-block}.auth.-transparent .auth-logout:hover{text-decoration:none}.register-popup-login{display:-webkit-box;display:-ms-flexbox;display:flex;-webkit-box-pack:justify;-ms-flex-pack:justify;justify-content:space-between;-webkit-box-align:center;-ms-flex-align:center;align-items:center;background:#ecf6ff;color:#979797;border-radius:4px;margin-bottom:16px;padding-left:15px;height:40px}.register-popup-login a{font-size:16px;color:#4183f1;cursor:pointer;font-weight:600;text-decoration:none;padding:0 15px;height:100%;display:-webkit-box;display:-ms-flexbox;display:flex;-webkit-box-align:center;-ms-flex-align:center;align-items:center}.register-popup-login a:active{background:rgba(252,99,33,.1)}.registerHeader{font-weight:600;font-size:18px}.popup-overlay{position:fixed;top:0;left:0;right:0;bottom:0;display:-webkit-box;display:-ms-flexbox;display:flex;-webkit-box-pack:center;-ms-flex-pack:center;justify-content:center;-webkit-box-align:center;-ms-flex-align:center;align-items:center;background:rgba(255,255,255,.75);visibility:visible;opacity:1;-webkit-transition:.2s linear;transition:.2s linear;z-index:200}.popup-overlay.-dark{background:rgba(0,0,0,.2)}.popup-overlay:not(.-hidden)~._content{height:100vh;overflow:hidden}.popup-overlay .top{display:none}@media only screen and (min-width:320px) and (max-width:675px){.popup-overlay .top{padding:0 0 15px;text-align:center;display:block}}.popup-overlay.-hidden{visibility:hidden;opacity:0}.popup-overlay .popup{position:relative;box-shadow:0 2px 4px rgba(0,0,0,.35);background:#fff;max-height:100vh;overflow:auto}.popup-overlay .x-mark{width:40px;height:40px;display:-webkit-box;display:-ms-flexbox;display:flex;-webkit-box-pack:center;-ms-flex-pack:center;justify-content:center;-webkit-box-align:center;-ms-flex-align:center;align-items:center;font-size:35px;font-weight:Bold;cursor:pointer;color:#444;position:absolute;top:10px;right:10px;text-decoration:none}.popup-overlay .x-mark:active{background:rgba(252,99,33,.1)}.popup-overlay .menuPopup{width:100%;height:100%;box-shadow:none;background:#fff}.popup-overlay .registerPopup{max-width:400px;width:100%}.popup-overlay .registerPopup,.popup-overlay .menuPopup,.popup-overlay .loginPopup{overflow:auto;padding:20px 30px 40px}@media only screen and (min-width:320px) and (max-width:675px){.popup-overlay .registerPopup,.popup-overlay .menuPopup,.popup-overlay .loginPopup{padding-top:15px;padding-bottom:30px;height:100%;max-width:100%}}@media only screen and (min-width:320px) and (max-width:675px){.popup-overlay .loginPopup{height:100%;width:100%;box-shadow:none}}.popup-overlay .videoPopup,.popup-overlay .frameVideo{height:100%;width:100%}.popup-overlay .videoPopup .x-mark,.popup-overlay .frameVideo .x-mark{top:5px;color:#fff;font-size:20px;font-weight:400}.popup-overlay .videoPopup{overflow:hidden}.popup-overlay .loginPopup,.popup-overlay .registerPopup{border-radius:3px}@media only screen and (min-width:320px) and (max-width:675px){.popup-overlay .loginPopup,.popup-overlay .registerPopup{border-radius:0}}.firstLinkedin{max-width:700px;margin:30px auto 0;text-align:center;display:-webkit-box;display:-ms-flexbox;display:flex;-webkit-box-orient:vertical;-webkit-box-direction:normal;-ms-flex-direction:column;flex-direction:column;-webkit-box-align:center;-ms-flex-align:center;align-items:center;color:#979797;padding:0 10px 20px}.firstLinkedin-logo{max-width:251px;width:100%}.firstLinkedin-h3{padding-top:40px;font-size:40px;font-weight:300}@media only screen and (min-width:320px) and (max-width:675px){.firstLinkedin-h3{font-size:27px}}.firstLinkedin-avatarCut{margin-top:25px;height:70px;width:70px;background:#d3d3d3;border-radius:70px;display:-webkit-box;display:-ms-flexbox;display:flex;-webkit-box-align:end;-ms-flex-align:end;align-items:flex-end;-webkit-box-pack:center;-ms-flex-pack:center;justify-content:center;overflow:hidden}.firstLinkedin-standartAvatar{height:60px;opacity:.3;border-radius:27px}.firstLinkedin-avatar{height:70px;border-radius:70px}.firstLinkedin-text{margin-top:15px;line-height:1.5em}.firstLinkedin-noteText{margin-top:15px;line-height:1.5em;color:#fc6320}.firstLinkedin-linkedinBox{display:-webkit-box;display:-ms-flexbox;display:flex;-webkit-box-align:center;-ms-flex-align:center;align-items:center;color:#4183f1;margin:25px 0 30px}.firstLinkedin-linkedinLogo{height:23px;margin:0 7px 2px 0}.firstLinkedin-connect{background:#4183f1;width:auto;padding:11px 25px;margin:0 0 0 25px;-webkit-user-select:none;-moz-user-select:none;-ms-user-select:none;user-select:none}.firstLinkedin-connect:hover{background:#4183f1}.firstLinkedin-connect:active{box-shadow:inset 2px 2px 3px rgba(0,0,0,.25)}.firstLinkedin-connected{margin-left:10px}.firstLinkedin-textUpload{margin-top:15px}.firstLinkedin-uploadBox{margin-top:15px;position:relative;overflow:hidden}.firstLinkedin-upload{position:absolute;top:0;right:0;margin:0;padding:0;font-size:20px;cursor:pointer;opacity:0}.firstLinkedin-uploadBtn{text-transform:uppercase;display:block;border:1px solid #2a438b;color:#2a438b;font-size:14px;padding:4px 10px}.firstLinkedin-fileName{display:block;margin-top:5px}.firstLinkedin-uploadBox,.firstLinkedin-fileName,.firstLinkedin-textUpload{display:none}.firstLinkedin-continue{margin-top:50px}.firstLinkedin-skip{margin-top:15px;text-decoration:none;text-transform:uppercase;font-size:13px;color:#4183f1}.firstLinkedin-skip:hover{text-decoration:underline}.popupSendEmail{padding:20px 10px;color:#2a438b;text-align:center;max-width:400px}.popupSendEmail.-show .popupSendEmail-default{display:none}.popupSendEmail:not(.-show) .popupSendEmail-success{display:none}.popupSendEmail-icon{height:80px}.popupSendEmail-title{font-size:22px;line-height:35px}.popupSendEmail-title span{color:#fc6321}.popupSendEmail-title.-wide{margin:0 25px}.popupSendEmail-btnBox{margin-top:20px;display:-webkit-box;display:-ms-flexbox;display:flex;-ms-flex-pack:distribute;justify-content:space-around;-webkit-box-flex:1;-ms-flex-positive:1;flex-grow:1}.popupSendEmail-btn{text-transform:uppercase;font-size:14px;line-height:28px;height:28px;display:-webkit-box;display:-ms-flexbox;display:flex;-webkit-box-align:center;-ms-flex-align:center;align-items:center;-webkit-appearance:none;-moz-appearance:none;appearance:none;cursor:pointer;padding:0 1.5rem;border:none;border-radius:3px;color:#3f53b1}.popupSendEmail-btn.-primary{color:#fff;background:#fc6321;font-weight:700}.reviews{display:-webkit-box;display:-ms-flexbox;display:flex;-webkit-box-pack:center;-ms-flex-pack:center;justify-content:center;-ms-flex-wrap:wrap;flex-wrap:wrap}.reviews-review{width:300px;height:470px;padding:40px 25px 50px;margin:0 10px 40px;background:#fff;box-shadow:0 3px 4px rgba(0,0,0,.1),-2px 0 4px rgba(0,0,0,.1),2px 4px 1px rgba(0,0,0,.05);position:relative;z-index:100}.reviews-review-overlay{background-color:#fff;position:absolute;top:0;bottom:0;left:0;right:0;-webkit-transition:all .3s;transition:all .3s;box-shadow:0 2px 3px 0 rgba(0,0,0,.3)}.reviews-review-controls{width:100%;height:30px;position:absolute;bottom:15px;opacity:0;text-align:center;-webkit-transition:opacity .1s;transition:opacity .1s}.reviews-review-inner{position:relative}.reviews-review-readMore{line-height:30px;text-align:center;display:inline-block;text-decoration:none;text-transform:uppercase;font-size:.9em;font-weight:700;color:#4897c0}.reviews-review-text{color:#979797;font-size:1.125em;line-height:1.5;margin-top:12px;font-weight:300;text-align:left}.reviews-review-author{text-align:center}.reviews-review-authorPic{display:inline-block;margin-bottom:10px;background:#d9d9d9;border-radius:50%;height:130px;width:130px;overflow:hidden;position:relative;background-position:center center;background-repeat:no-repeat;background-size:cover}.reviews-review-authorName{font-weight:600;font-size:1.125em;color:#979797;margin-bottom:3px;margin-top:15px;text-align:left}.reviews-review-authorUniversity{font-weight:600;font-size:1.125em;color:#979797;text-align:left}.reviews-review:hover{z-index:1}.reviews-review:hover .reviews-review-overlay{top:-7px;bottom:-30px;right:-7px;left:-7px;box-shadow:0 4px 6px 0 rgba(0,0,0,.3)}.reviews-review:hover .reviews-review-controls{-webkit-transition:opacity .3s .05s;transition:opacity .3s .05s;opacity:1}.simpleAuth{max-width:550px;margin:30px auto 0;text-align:center;color:#979797;padding:0 10px 20px}body.-error .simpleAuth-error{display:-webkit-box;display:-ms-flexbox;display:flex}.simpleAuth-logo{max-width:251px;width:100%}.simpleAuth-h3{padding-top:40px;font-size:40px;font-weight:300}@media only screen and (min-width:320px) and (max-width:675px){.simpleAuth-h3{font-size:27px}}.simpleAuth-text{padding-top:15px;font-size:18px;line-height:1.5em}.simpleAuth-tooltip{position:relative;margin-top:25px}.simpleAuth-tooltip.-showTitle .simpleAuth-inputTitle{display:block}.simpleAuth-inputTitle{display:none;position:absolute;top:-17.5px;left:0;font-size:13px}.simpleAuth form{max-width:350px;margin:10px auto 15px;text-align:left}.simpleAuth-input{border-radius:3px;width:100%;font-size:17px;padding:7px 40px 7px 10px;border:1px solid #979797;outline:none;color:#444}.simpleAuth-input:focus{border:1px solid #4183f1;box-shadow:0 0 1px #4183f1}.simpleAuth-okIcon{position:absolute;width:25px;height:25px;margin:5px 0 0 -35px;opacity:0;visibility:hidden;-webkit-transition:.3s linear;transition:.3s linear}.simpleAuth-okIcon.show{opacity:.4;visibility:visible}.simpleAuth-toHome{font-size:14px}.simpleAuth-link{text-decoration:none;color:#4183f1}.simpleAuth-error{display:-webkit-box;display:-ms-flexbox;display:flex;-webkit-box-align:center;-ms-flex-align:center;align-items:center;display:none}.auth-error{font-size:14px;color:#db3a1b;font-weight:600;text-align:left;padding:0 0 0 2px}.auth-error.-general{margin-top:15px;padding:0}.auth-error.-unconfirmedProf:not(.-show){display:none}.auth-error a{color:#db3a1b}.topbar{position:absolute;top:0;left:0;right:0;z-index:150;height:55px;font-family:Source Sans Pro,Arial,Helvetica,sans-serif}.topbar.-fixed .topbar-logoBlue,.topbar.-productsDrop .topbar-logoBlue{display:block}.topbar.-fixed .topbar-logoWhite,.topbar.-productsDrop .topbar-logoWhite{display:none}.topbar.-productsDrop .productsDropDown{display:block}.topbar.-productsDrop .topbar-products:before,.topbar.-productsDrop .topbar-products:after{content:'';position:absolute;left:25px;bottom:-19px;border:8px solid transparent;border-bottom:8px solid #dfe2e8}.topbar.-productsDrop .topbar-products:after{border-bottom:8px solid #fff;bottom:-20px}.topbar.-productsDrop .topbar-products .topbar-produtsArrow{border-right-color:transparent;border-top:5px solid #2a438b;top:7px}.topbar-inner{display:-webkit-box;display:-ms-flexbox;display:flex;-webkit-box-pack:justify;-ms-flex-pack:justify;justify-content:space-between;max-width:100%;width:1200px;margin:0 auto;padding-right:20px;padding-left:20px}@media only screen and (min-width:768px) and (max-width:1024px){.topbar-inner{padding-right:10px;padding-left:10px}}@media only screen and (min-width:320px) and (max-width:675px){.topbar-inner{padding-right:10px;padding-left:10px}}.topbar-menu{display:none;cursor:pointer;width:40px;z-index:50;position:fixed;margin-right:10px;margin-top:5px;top:0;right:0}.topbar-menu img{width:40px;height:40px}.topbar-menu:active{background:rgba(252,99,33,.3)}@media only screen and (min-width:320px) and (max-width:675px){.topbar-menu{display:block}}@media only screen and (min-width:676px){.topbar.-fixed,.topbar.-productsDrop{position:fixed;background:#fff;top:0;left:0;right:0;-webkit-animation:topbar-slide .3s;animation:topbar-slide .3s;box-shadow:0 8px 6px -6px rgba(0,0,0,.4)}.topbar.-fixed .topbar-links a:not(:last-child),.topbar.-productsDrop .topbar-links a:not(:last-child){color:#2a438b}}.topbar-logo{-ms-flex-negative:0;flex-shrink:0;height:55px}@media only screen and (min-width:320px) and (max-width:675px){.topbar-logo{display:-webkit-box;display:-ms-flexbox;display:flex}}.topbar-logo img{width:270px}@media only screen and (min-width:676px) and (max-width:767px){.topbar-logo img{width:200px;margin-top:5px}}@media only screen and (min-width:320px) and (max-width:675px){.topbar-logo img{margin-top:5px;width:180px}}.topbar-logoBlue{display:none}.topbar-linksWrapper{display:-webkit-box;display:-ms-flexbox;display:flex;-webkit-box-align:center;-ms-flex-align:center;align-items:center}@media only screen and (min-width:320px) and (max-width:675px){.topbar-linksWrapper{display:none}}.topbar-requestOrange{color:#ff7800;border:2px solid #ff7800;border-radius:4px;font-size:14px;font-weight:600;padding:4px 10px;-webkit-user-select:none;-moz-user-select:none;-ms-user-select:none;user-select:none;cursor:pointer}.topbar-requestOrange,.topbar-links a,.topbar .loginRegister{margin-left:35px}@media only screen and (min-width:768px) and (max-width:1024px){.topbar-requestOrange,.topbar-links a,.topbar .loginRegister{margin-left:20px}}@media only screen and (min-width:676px) and (max-width:767px){.topbar-requestOrange,.topbar-links a,.topbar .loginRegister{margin-left:15px}}.topbar-links{display:-webkit-box;display:-ms-flexbox;display:flex;-webkit-box-pack:end;-ms-flex-pack:end;justify-content:flex-end;-webkit-box-align:center;-ms-flex-align:center;align-items:center;white-space:nowrap}.topbar-links a{text-decoration:none;color:#fff;text-transform:uppercase;font-size:14px;font-weight:600}.topbar-links a:first-child{margin:0}.topbar-links .topbar-requestAccess{border:2px solid #fff;color:#fff;padding:5px 10px;border-radius:5px}@media only screen and (min-width:676px) and (max-width:767px){.topbar-links .topbar-requestAccess{font-size:12px}}.topbar.-fixed .topbar-links .topbar-requestAccess{color:#2a438b;border-color:#2a438b}.topbar-produtsArrow{border:5px solid transparent;border-right:5px solid #fff;position:absolute;top:50%;-webkit-transform:translateY(-50%);transform:translateY(-50%);right:0}.topbar.-fixed .topbar-produtsArrow{border-right-color:#2a438b}.topbar-products{padding-right:15px;position:relative;cursor:pointer}.topbar-register{cursor:pointer;color:#fff;text-transform:uppercase;position:relative;font-size:16px;font-weight:600}.topbar-register:hover .topbar-statusOverlay,.topbar-register:focus .topbar-statusOverlay{opacity:1;visibility:visible;-webkit-transition:.2s linear;transition:.2s linear}.topbar-statusOverlay{position:absolute;z-index:101;right:0;top:15px;padding:5px 0 0;opacity:0;visibility:hidden}@media only screen and (min-width:320px) and (max-width:675px){.topbar-statusOverlay{top:33px;width:125px;font-size:12px}}.topbar-status{background:#fff}.topbar-status div{display:block;text-align:center;margin:0;padding:12.5px 17.5px;color:#a6a6a6}.topbar-status div:hover{color:#000;background:#dae7fe}.topbar-sidebar{position:fixed;-webkit-box-orient:vertical;-webkit-box-direction:normal;-ms-flex-direction:column;flex-direction:column;width:220px;height:100%;background:#131c27;padding-top:10px;left:0;top:0;z-index:160;opacity:1;-webkit-transform:translateX(0);transform:translateX(0);-webkit-transition:all .5s;transition:all .5s;visibility:visible}.topbar-sidebar.-hidden{opacity:0;-webkit-transform:translateX(-100%);transform:translateX(-100%);visibility:hidden}.topbar-sidebar a{display:block;color:#fff;text-decoration:none;padding:10px 0 10px 20px;text-shadow:1px 1px 1px rgba(0,0,0,.5)}.topbar-sidebar a:hover{background:rgba(255,255,255,.05)}.topbar-sidebarOverlay{z-index:155;position:fixed;top:0;bottom:0;left:0;right:0}.topbar-sidebarOverlay.-hidden{display:none}.productsDropDown{position:absolute;background:#fff;width:100%;top:100%;left:0;border-top:1px solid #dfe2e8;display:none;box-shadow:0 8px 6px -6px rgba(0,0,0,.4);padding:35px 0}.productsDropDown-icon{width:47px;height:47px;margin-bottom:10px;display:-webkit-box;display:-ms-flexbox;display:flex;-webkit-box-align:center;-ms-flex-align:center;align-items:center;-webkit-box-pack:center;-ms-flex-pack:center;justify-content:center}.productsDropDown-icon img{display:block;max-width:100%;height:auto}.productsDropDown-list{display:-webkit-box;display:-ms-flexbox;display:flex;-ms-flex-wrap:wrap;flex-wrap:wrap;overflow:hidden}.productsDropDown-item{width:31%;display:-webkit-box;display:-ms-flexbox;display:flex;-webkit-box-orient:vertical;-webkit-box-direction:normal;-ms-flex-direction:column;flex-direction:column;-webkit-box-align:center;-ms-flex-align:center;align-items:center;text-align:center;margin:1%;color:#5f6c8c;font-size:16px;box-shadow:0 0 0 0 rgba(0,0,0,.3);-webkit-transition:all .3s;transition:all .3s;padding:10px;border-radius:3px;text-decoration:none}.productsDropDown-item:hover{box-shadow:0 2px 8px 0 rgba(0,0,0,.3)}.productsDropDown-header{font-size:24px}.productsDropDown-content{margin-top:25px;-webkit-box-flex:1;-ms-flex:1;flex:1}.productsDropDown-readMore{display:block;text-transform:uppercase;position:relative;-ms-flex-item-align:center;-ms-grid-row-align:center;align-self:center;margin-top:15px;padding-right:25px;-ms-flex-negative:0;flex-shrink:0;color:#ff7800;text-decoration:none;cursor:pointer;font-size:16px}.productsDropDown-readMore img{width:10px;height:12px;position:absolute;top:3px;right:0}@-webkit-keyframes topbar-slide{from{top:-100px}to{top:0}}@keyframes topbar-slide{from{top:-100px}to{top:0}}.contact{padding-top:30px;max-width:980px;margin:0 auto;display:-webkit-box;display:-ms-flexbox;display:flex;-ms-flex-wrap:wrap;flex-wrap:wrap}@media only screen and (min-width:320px) and (max-width:675px){.contact{-webkit-box-orient:vertical;-webkit-box-direction:normal;-ms-flex-direction:column;flex-direction:column}}.contact-bullet{margin:0 4px;font-size:16px}.contact-first{-webkit-box-flex:2.1;-ms-flex:2.1;flex:2.1;display:-webkit-box;display:-ms-flexbox;display:flex;-webkit-box-orient:vertical;-webkit-box-direction:normal;-ms-flex-direction:column;flex-direction:column}.contact-first .contact-body{margin-top:auto;display:-webkit-box;display:-ms-flexbox;display:flex;-webkit-box-align:center;-ms-flex-align:center;align-items:center;font-size:12px;font-weight:600}.contact-first .contact-body img.-copyright{width:15px;height:15px;margin-right:8px}@media only screen and (min-width:320px) and (max-width:675px){.contact-first{-ms-flex-item-align:center;-ms-grid-row-align:center;align-self:center;-webkit-box-flex:0;-ms-flex:none;flex:none;margin-bottom:20px}}.contact-first p{color:#fff;font-weight:300}.contact-first p a{text-decoration:none}.contact-first a{color:#fff}.contact-second{-webkit-box-flex:1.8;-ms-flex:1.8;flex:1.8}@media only screen and (min-width:320px) and (max-width:675px){.contact-second{-webkit-box-flex:0;-ms-flex:none;flex:none;-ms-flex-item-align:center;-ms-grid-row-align:center;align-self:center;margin-left:-100px;margin-bottom:20px}}.contact-second a.contact-body{text-decoration:none}.contact-third{-webkit-box-flex:1;-ms-flex:1;flex:1;margin-right:10px}@media only screen and (min-width:320px) and (max-width:675px){.contact-third{-webkit-box-flex:0;-ms-flex:none;flex:none;-ms-flex-item-align:center;-ms-grid-row-align:center;align-self:center;margin-left:-200px}}.contact-logo{font-weight:400;color:rgba(255,255,255,.8);font-size:.875em;font-family:Source Sans Pro,Arial,sans-serif}.contact-logo a{color:#fff}.contact-logo a:hover{text-decoration:none}.contact-logoPic{height:55px;margin-top:-18px;margin-left:-10px}.contact-emailIcon{display:inline-block;height:25px;margin-right:10px;margin-bottom:-5px}.contact-body{font-weight:400;margin-top:20px;font-family:Source Sans Pro,Arial,sans-serif;font-size:18px;line-height:1.2;color:rgba(255,255,255,.8)}@media only screen and (min-width:320px) and (max-width:675px){.contact-body{margin-top:10px}}.contact-body-item{margin-bottom:7px;display:-webkit-box;display:-ms-flexbox;display:flex;-webkit-box-align:center;-ms-flex-align:center;align-items:center}.contact-body p{font-weight:400;color:rgba(255,255,255,.8)}.contact-body a{color:rgba(255,255,255,.8);text-decoration:none;-webkit-transition:color .3s ease;transition:color .3s ease;cursor:pointer}.contact-body a:hover{color:#fff}.contact-body img{height:25px;width:25px;display:inline-block;margin-right:10px}.contact-body.-big{font-size:1.5em}.contact-header{color:#fff;margin-bottom:10px;font-family:Source Sans Pro,Arial,sans-serif}.contact-header p{color:#fff;font-size:27px;margin-bottom:20px}@media only screen and (min-width:320px) and (max-width:675px){.contact-header p{margin-bottom:10px}}.contact-header span{font-weight:300}.contact-about{color:#fff}.contact-about p{font-size:1.5em;margin-bottom:20px}.contact-about a{display:block;margin-bottom:10px;text-decoration:none;color:#fff;font-size:1.1;font-weight:300}#body.-page-confirm-finish{font-weight:600;min-height:100vh;padding:30px 15px;display:-webkit-box;display:-ms-flexbox;display:flex;-webkit-box-orient:vertical;-webkit-box-direction:normal;-ms-flex-direction:column;flex-direction:column;-webkit-box-align:center;-ms-flex-align:center;align-items:center;text-align:center}@media only screen and (min-width:320px) and (max-width:675px){#body.-page-confirm-finish{padding:15px 10px}}.ConfirmFinish{display:-webkit-box;display:-ms-flexbox;display:flex;-webkit-box-flex:1;-ms-flex-positive:1;flex-grow:1;-webkit-box-orient:vertical;-webkit-box-direction:normal;-ms-flex-direction:column;flex-direction:column;-webkit-box-pack:end;-ms-flex-pack:end;justify-content:flex-end;font-family:Source Sans Pro,sans-serif;color:#979797}.ConfirmFinish a.-link{color:#4183f1}.ConfirmFinish a.-skip{color:#777;font-weight:400;border:1px solid #777;padding:10px 20px;border-radius:3px;line-height:1;margin-top:20px;text-decoration:none}.ConfirmFinish a.-skip:hover{color:#fff;background:#777}.ConfirmFinish a.-linkedin{max-width:250px;color:#fff;text-transform:uppercase;background:#4183f1;text-decoration:none;display:-webkit-box;display:-ms-flexbox;display:flex;-webkit-box-align:end;-ms-flex-align:end;align-items:flex-end;font-size:18px;border-radius:5px;padding:10px 20px;margin:0 auto}.ConfirmFinish a.-linkedin:active{box-shadow:inset 2px 2px 3px rgba(0,0,0,.2)}.ConfirmFinish a.-linkedin img{margin-right:15px;width:25px;z-index:100}.ConfirmFinish-mainWrapper{-webkit-box-flex:1;-ms-flex-positive:1;flex-grow:1;display:-webkit-box;display:-ms-flexbox;display:flex}.ConfirmFinish-main{display:-webkit-box;display:-ms-flexbox;display:flex;-webkit-box-orient:vertical;-webkit-box-direction:normal;-ms-flex-direction:column;flex-direction:column;-webkit-box-align:center;-ms-flex-align:center;align-items:center;-webkit-box-pack:center;-ms-flex-pack:center;justify-content:center}.ConfirmFinish-main>img{width:85px}.ConfirmFinish-title{font-size:42px;font-weight:100;margin:20px 0}.ConfirmFinish-text{line-height:27px}.ConfirmFinish-text.-margin{margin-top:18px}.ConfirmFinish-goBack{margin-top:40px}#body.-page-ErrorPage{height:100vh;overflow:hidden}.Error{position:relative;height:100%;background:#ecebf2;overflow:auto}.Error h1{font-size:16px;margin:0 0 10px}.Error-logo{width:255px}.Error-inform{text-align:center;margin:5%;font-size:15px}.Error-image{margin:0 0 50px}.Error-refresh{background:#ff6200;width:100%;color:#fff;text-decoration:none;font-size:17px;height:40px;display:-webkit-box;display:-ms-flexbox;display:flex;-webkit-box-align:center;-ms-flex-align:center;align-items:center;-webkit-box-pack:center;-ms-flex-pack:center;justify-content:center;margin:20px 0 0}.Error-refresh img{display:none}@media only screen and (min-width:600px){.Error-refresh{position:absolute;right:5%;bottom:10%;width:50px;height:50px;background:none;font-size:0;line-height:0;margin:0}.Error-refresh img{display:block}}.profs-readMoreWrapper.-full .profs-readMode{display:none}#body.-page-promo-privacy-policy .policy{text-align:justify;max-width:700px;padding:60px 24px;margin:0 auto}#body.-page-promo-privacy-policy .policy h1{margin-top:60px}#body.-page-promo-privacy-policy .policy h2{margin-bottom:24px}#body.-page-promo-privacy-policy .policy h2:not(:first-child){margin-top:48px}#body.-page-promo-privacy-policy .policy-mainText{text-align:justify;color:#fff;padding:0 24px}#body.-page-promo-privacy-policy .policy-mainText a{color:#fff}#body.-page-promo-privacy-policy .policy ul{padding-left:40px}#body.-page-promo-privacy-policy .policy ul li:not(:last-child){padding-bottom:24px}#body.-page-promo-research .promo-research .sectionMain{background:-webkit-linear-gradient(75deg,#605c88,#242f64);background:linear-gradient(15deg,#605c88,#242f64)}#body.-page-promo-research .promo-research-popupOverlay{height:100vh;width:100vw;position:fixed;z-index:1000;background-color:rgba(28,33,47,.6);overflow:auto;display:none}#body.-page-promo-research .promo-research-popupOverlay.-show{display:-webkit-box;display:-ms-flexbox;display:flex}#body.-page-promo-research .promo-research-popupActionForm.-hide{display:none}#body.-page-promo-research .promo-research-popup{max-width:496px;box-shadow:0 24px 56px rgba(0,0,0,.16);background-color:#fff;margin:auto;font-family:Source Sans Pro,Lato,sans-serif}#body.-page-promo-research .promo-research-popupHeader{font-size:18px;padding:24px 24px 16px}#body.-page-promo-research .promo-research-popupInputWrapper{border-top:1px solid rgba(38,38,38,.1);padding:16px 24px}#body.-page-promo-research .promo-research-popupInputWrapper:nth-child(odd){background-color:rgba(38,38,38,.02);border-bottom:1px solid rgba(38,38,38,.1)}#body.-page-promo-research .promo-research-popupInputWrapper textarea{min-height:50px}#body.-page-promo-research .promo-research-popupInput{font-size:14px;resize:vertical}#body.-page-promo-research .promo-research-popupInputLabel{margin-bottom:16px;font-size:14px;font-weight:600;color:#1c212f;line-height:16px}#body.-page-promo-research .promo-research-popupTextErr,#body.-page-promo-research .promo-research-popupEmailErr,#body.-page-promo-research .promo-research-popupDetailsErr{color:#f44336;margin-bottom:8px;display:none}#body.-page-promo-research .promo-research-popupTextErr.-show,#body.-page-promo-research .promo-research-popupEmailErr.-show,#body.-page-promo-research .promo-research-popupDetailsErr.-show{display:block}#body.-page-promo-research .promo-research-popupButtonsWrapper{display:-webkit-box;display:-ms-flexbox;display:flex;-webkit-box-pack:end;-ms-flex-pack:end;justify-content:flex-end;padding:24px}#body.-page-promo-research .promo-research-popupButtonsWrapper.-center{-webkit-box-pack:center;-ms-flex-pack:center;justify-content:center}#body.-page-promo-research .promo-research-popupButtonsWrapper button{width:145px;height:33px}#body.-page-promo-research .promo-research-popupButtonCancel{color:#f44336!important}#body.-page-promo-research .promo-research-popupSended{font-size:18px;padding:24px 24px 0;max-width:100%;width:300px;text-align:center;display:none}#body.-page-promo-research .promo-research-popupSended.-show{display:block}.BigIcon{width:70px;height:70px}.featuresList{padding:80px 0 40px;text-align:center;display:-webkit-box;display:-ms-flexbox;display:flex;-ms-flex-wrap:wrap;flex-wrap:wrap;-ms-flex-pack:distribute;justify-content:space-around;color:#585766}.featuresList-item{-ms-flex-preferred-size:300px;flex-basis:300px;-ms-flex-negative:0;flex-shrink:0;margin-bottom:40px;font-family:Source Sans Pro,Arial,sans-serif}.featuresList-icon{text-align:center;margin-bottom:24px}.featuresList-title{font-size:28px;font-weight:400;margin-bottom:16px}.featuresList-list{font-size:16px}.promoResearchPrice{background:#fff;padding-bottom:75px}.promoResearchPrice.-gray{background:#ecebf2}.promoResearchPrice-wrapper{max-width:1100px;margin:0 auto;display:-webkit-box;display:-ms-flexbox;display:flex;-ms-flex-wrap:wrap;flex-wrap:wrap;-webkit-box-pack:justify;-ms-flex-pack:justify;justify-content:space-between}@media(max-width:991px){.promoResearchPrice-wrapper{-ms-flex-pack:distribute;justify-content:space-around}}.promoResearchPrice-block{max-width:344px;-ms-flex-preferred-size:320px;flex-basis:320px;-webkit-box-flex:1;-ms-flex-positive:1;flex-grow:1;-ms-flex-negative:1;flex-shrink:1;box-shadow:0 1px 7px rgba(100,98,116,.36);position:relative;margin-right:16px}@media(max-width:991px){.promoResearchPrice-block{margin-bottom:64px}}.promoResearchPrice-block:last-child{margin-right:0}.promoResearchPrice-block:before{content:'';height:103px;width:103px;border-radius:103px;background:#fff;position:absolute;left:50%;-webkit-transform:translate(-50%,-30px) scaleX(.9);transform:translate(-50%,-30px) scaleX(.9);box-shadow:0 1px 7px rgba(100,98,116,.36)}.promoResearchPrice-content{width:100%;background:#fff;position:relative;padding:24px;font-family:Source Sans Pro,Arial,sans-serif}.promoResearchPrice-icon{display:block}.promoResearchPrice-icon.-icon1{margin:-34px auto 48px}.promoResearchPrice-icon.-icon2{margin:-38px auto 57px}.promoResearchPrice-icon.-icon3{margin:-31px auto 55px}.promoResearchPrice-title{font-size:28px;line-height:42px;font-weight:600;text-align:center;color:#585766;margin-bottom:48px}.promoResearchPrice-item{position:relative;border-bottom:1px solid rgba(88,87,102,.2);margin-bottom:16px}.promoResearchPrice-item:last-child{margin-bottom:35px}.promoResearchPrice-check{position:absolute;top:3px;margin:0 16px 16px 0}.promoResearchPrice-text{font-weight:600;text-align:center;padding:0 32px 16px}.promoResearchPrice-price{font-size:28px;line-height:42px;font-weight:600;text-align:center;color:#585766;margin-bottom:35px}.promoResearchPrice-button{background:#fc6320;height:33px;width:100%;color:#fff;text-transform:uppercase;cursor:pointer;outline:none;border:none;border-radius:3px;font-size:14px;font-weight:600}.promoResearchPrice-button:hover{background:#e75900}.promoResearchPrice-custom{max-width:1100px;margin:0 auto;padding-top:75px}.promoResearchPrice-header{font-size:28px;line-height:42px;font-weight:600;text-align:center;color:#585766;margin-bottom:16px}.promoResearchPrice-description{text-align:center;font-size:16px;line-height:24px;color:#585766}.promoResearchPrice-link{color:#ff7800;text-decoration:none}.promoResearchPrice-link:hover{text-decoration:underline}#body.-page-promo-services .sectionMain{background:-webkit-linear-gradient(75deg,#07aabe,#003340);background:linear-gradient(15deg,#07aabe,#003340)}#body.-page-promo-signup .topbar{top:35px;display:-webkit-box;display:-ms-flexbox;display:flex;-webkit-box-pack:center;-ms-flex-pack:center;justify-content:center}#body.-page-promo-signup .sectionMain{padding-top:160px;height:100vh}#body.-page-promo-signup .loginRegister a,#body.-page-promo-signup .sectionMain-request{cursor:pointer;width:290px;margin-top:0}#body.-page-promo-signup .loginRegister a.-hide,#body.-page-promo-signup .sectionMain-request.-hide{display:none}#body.-page-promo-signup .loginRegister a+.sectionMain-request,#body.-page-promo-signup .sectionMain-request+.sectionMain-request{margin:15px 0 0}.signup-form{display:-webkit-box;display:-ms-flexbox;display:flex;-webkit-box-orient:vertical;-webkit-box-direction:normal;-ms-flex-direction:column;flex-direction:column;-webkit-box-pack:center;-ms-flex-pack:center;justify-content:center}.signup-form label{color:#fff;font-size:18px;margin-bottom:10px}.signup-formItem{display:-webkit-box;display:-ms-flexbox;display:flex;-webkit-box-orient:vertical;-webkit-box-direction:normal;-ms-flex-direction:column;flex-direction:column;-webkit-box-align:center;-ms-flex-align:center;align-items:center;margin-top:35px}.signup-formItem:first-child{margin-top:0}#body.-page-sent{min-height:100vh;font-family:Source Sans Pro,sans-serif;max-width:960px;margin:0 auto;padding:50px 15px;color:#979797}@media only screen and (min-width:320px) and (max-width:675px){#body.-page-sent{padding:20px 10px}}#body.-page-sent p{line-height:27px;font-weight:600}#body.-page-sent a{color:#4183f1;font-weight:600;margin:0 5px}#body.-page-sent .sentWrapper{display:-webkit-box;display:-ms-flexbox;display:flex;-webkit-box-orient:vertical;-webkit-box-direction:normal;-ms-flex-direction:column;flex-direction:column;-webkit-box-pack:justify;-ms-flex-pack:justify;justify-content:space-between;-webkit-box-align:center;-ms-flex-align:center;align-items:center;min-height:calc(100vh - 100px)}@media only screen and (min-width:320px) and (max-width:675px){#body.-page-sent .sentWrapper{min-height:calc(100vh - 40px)}}.sent-icon{text-align:center}.sent-icon img{width:85px}.sent-header{margin:5px auto 20px;max-width:800px;text-align:center;font-size:42px}.sent-header p{line-height:52px;font-weight:100}.sent-text{max-width:550px;margin:0 auto;text-align:center}.sent-lastLine{margin-top:30px;max-width:400px;margin:30px auto}.sent-button{display:block;width:200px;margin:0 auto;text-align:center;background:#fc6320;color:#ffe0d1;padding:11px 0;border:none;border-radius:3px;text-decoration:none;line-height:1}.SetPassword-wrapper{height:100vh;background-size:cover;background-position:center center}.SetPassword-gradient{display:-webkit-box;display:-ms-flexbox;display:flex;-webkit-box-orient:vertical;-webkit-box-direction:normal;-ms-flex-direction:column;flex-direction:column;-webkit-box-align:center;-ms-flex-align:center;align-items:center;background-image:-webkit-linear-gradient(45deg,rgba(0,178,238,.8),rgba(59,73,144,.8));background-image:linear-gradient(45deg,rgba(0,178,238,.8),rgba(59,73,144,.8));padding:32px 16px 16px;height:100vh;overflow:auto}.SetPassword-logo{width:270px;-ms-flex-negative:0;flex-shrink:0}@media screen and (max-width:479px){.SetPassword-logo{width:180px}}.SetPassword-form{margin-top:24px;background:#fff;padding:16px 32px 24px;-ms-flex-negative:0;flex-shrink:0;max-width:100%;width:320px}.SetPassword-title{font-weight:600;text-align:center}.SetPassword-subtitle{text-align:center;padding:8px 0 16px}.SetPassword-error{color:#db3a1b;font-weight:600;font-size:14px;text-align:center;margin-bottom:8px;display:none}.SetPassword-error.-show{display:block}.SetPassword-input+.SetPassword-input{margin-top:8px}.SetPassword-input.-noSelect input{-webkit-user-select:none;-moz-user-select:none;-ms-user-select:none;user-select:none}.SetPassword-button{display:block;text-transform:uppercase;border-radius:5px;background:#fc6321;border:0;margin:24px auto;color:#fff;padding:8px 24px;font-size:16px;font-weight:400;cursor:pointer}@media screen and (max-width:479px){.SetPassword-button{font-size:14px}}.SetPassword-link{display:block;color:#2a438b;font-size:14px;text-align:center;text-decoration:none}.PromoConfirmEmailInfo-wrapper{display:-webkit-box;display:-ms-flexbox;display:flex;-webkit-box-orient:vertical;-webkit-box-direction:normal;-ms-flex-direction:column;flex-direction:column;-webkit-box-pack:justify;-ms-flex-pack:justify;justify-content:space-between;-webkit-box-align:center;-ms-flex-align:center;align-items:center;min-height:calc(100vh - 100px);font-family:Source Sans Pro,sans-serif;max-width:960px;margin:0 auto;padding:50px 15px;color:#979797}.PromoConfirmEmailInfo-wrapper p{line-height:27px;font-weight:600}.PromoConfirmEmailInfo-wrapper a{color:#4183f1;font-weight:600;margin:0 5px}@media only screen and (min-width:320px) and (max-width:675px){.PromoConfirmEmailInfo-wrapper{min-height:calc(100vh - 40px);padding:20px 10px}}.PromoConfirmEmailInfo-iconWrapper{text-align:center}.PromoConfirmEmailInfo-iconWrapper img{width:85px}.PromoConfirmEmailInfo-header{margin:5px auto 20px;max-width:800px;text-align:center;font-size:42px}.PromoConfirmEmailInfo-header p{line-height:52px;font-weight:100}.PromoConfirmEmailInfo-text{max-width:550px;margin:0 auto;text-align:center}
Research
Make the internet your research laboratory.
Set up the workflow for your research study once and reuse it any time.
Integrate with Amazon Mechanical Turk and Qualtrics or your preferred tools.
Crowdsource users
Source users directly from Amazon MTurk, Crowdflower or bring your own participants.
Everything in one place
Pick from well known simulations from existing libraries or build your own
Download the data
You can download the video feed and csv files with the research data
You can use students in your lab, participants in different laboratories, Amazon MTurkers or any other online participants.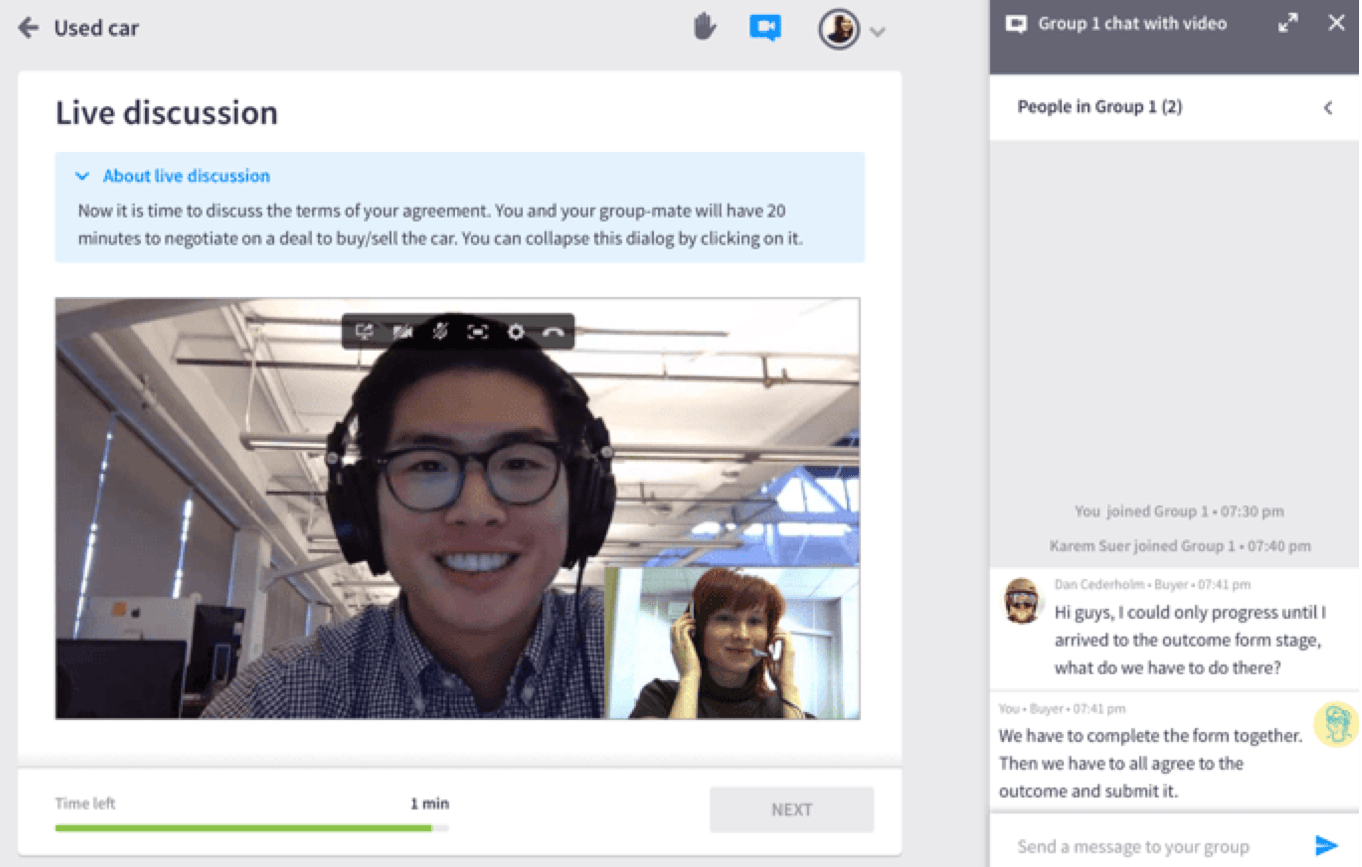 Choose from hundreds of DRRC, Harvard PON cases and adapt them for your research study or build your own role play easily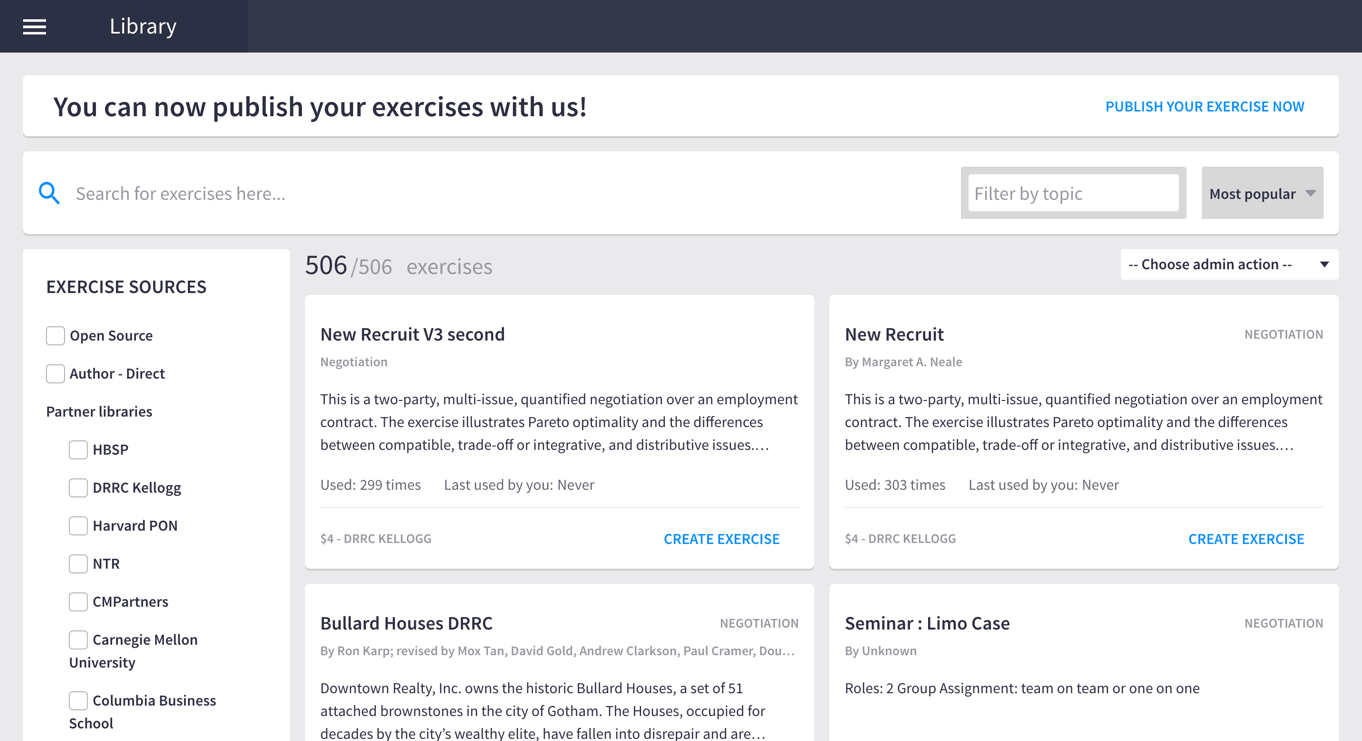 Participants receive their role information and pairings automatically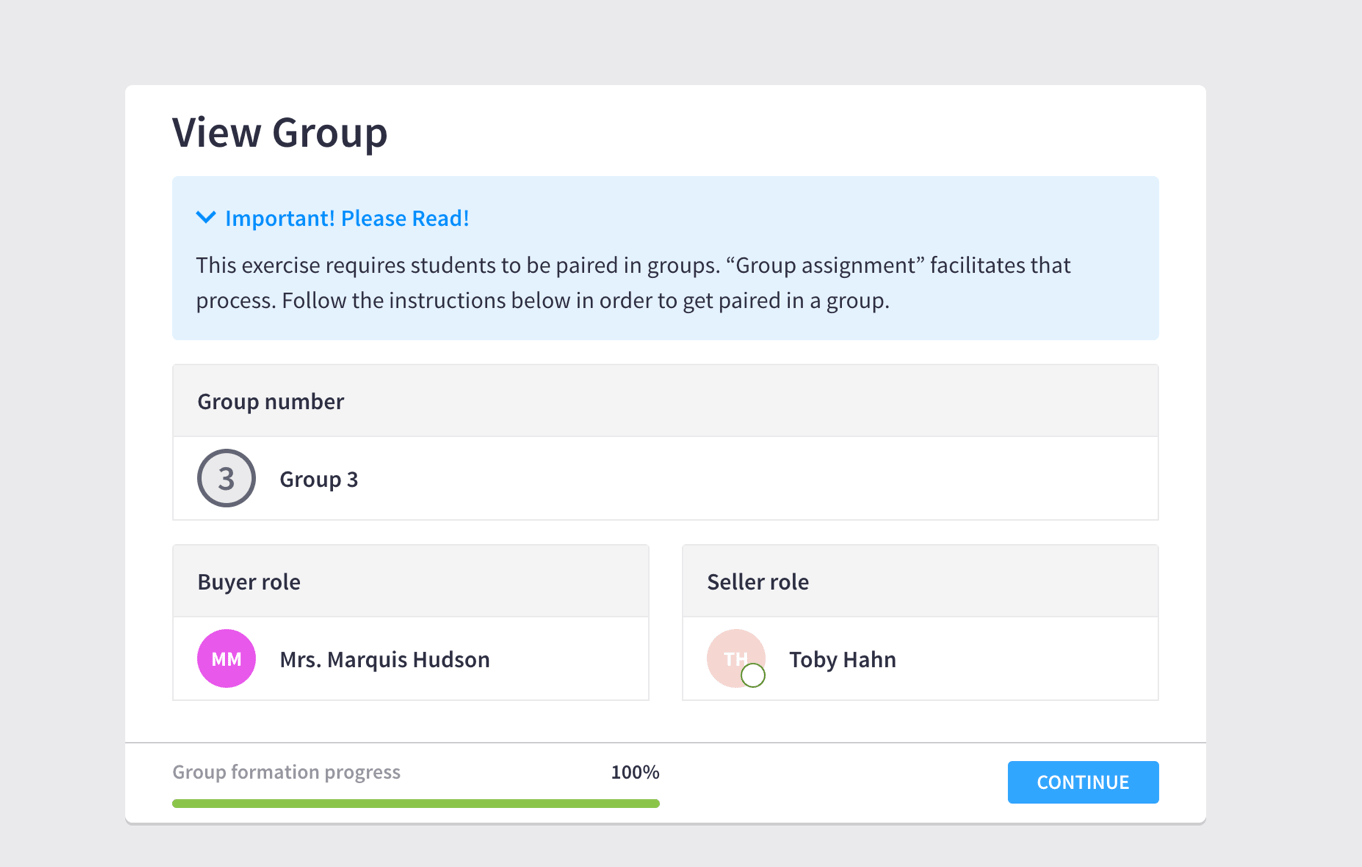 iDecisisionGames allows you to custom build your surveys and have all your data in one place. Or you can integrate with your preferred survey tool such as Qualtrics or SurveyMonkey.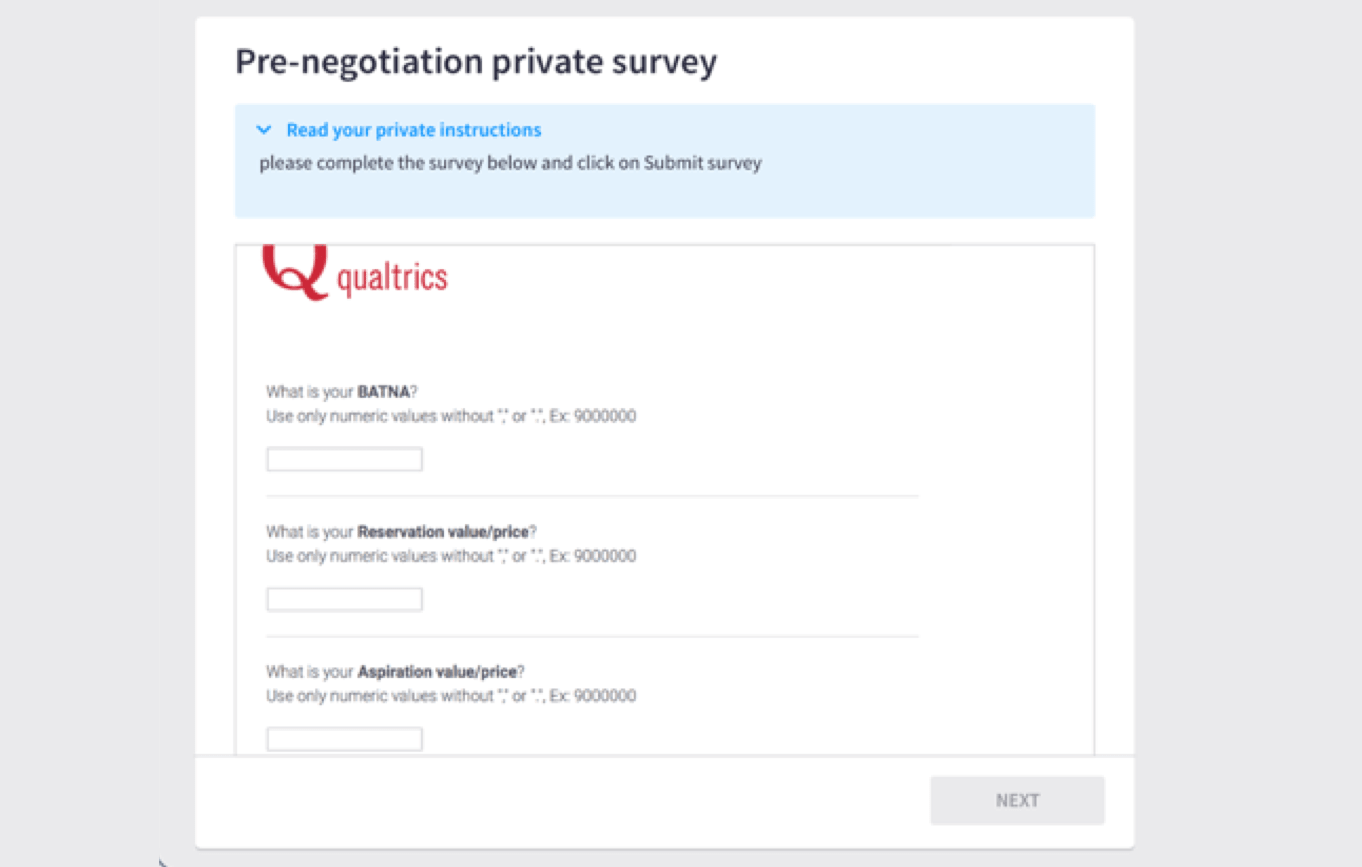 View and analyze the data using our advanced visualization tools or download it as a csv file. Even the video recordings are available for download.